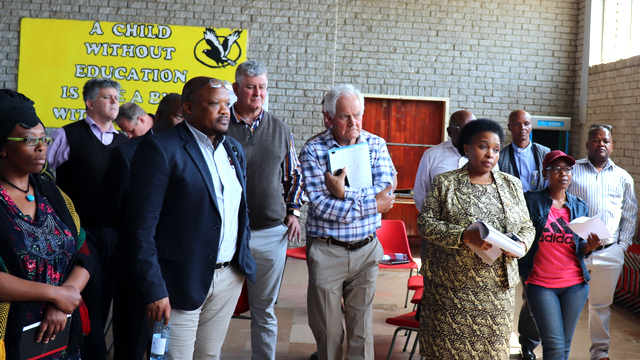 On Monday 16 September, Makhanda stakeholders, including Rhodes University, the Grahamstown Business Forum (GBF), Kagiso Trust and Eastcape Midlands College, resolved to set up a Programme Management Office to lead the implementation of the Makhanda Circle of Unity stakeholders' city advancement plan.
The plan is a product of proposals made at a multi-stakeholder inaugural Imbizo, which took place on 30 July.
The Programme Management Office, comprising of a Programme Manager and two interns, will work to coordinate and lead implementation in conjunction with seven clusters established by the Stakeholders' Forum.
Rhodes University Vice-Chancellor, Dr Sizwe Mabizela, is to approach the University Council for special funding for the post. The GBF committed to assist with complimentary fundraising while Kagiso Trust will provide overall support. The Eastcape Midlands College will provide two interns to assist the Programme Manager.
"On 30 July, we gathered at Rhodes University as important role players in Makhanda, to explore the role that we, as significant members of our civil society, might play in reimagining the future of our city and its residents," explained Dr Mabizela. "If we do not take charge of our destiny, we will be the biggest losers. Watching from the sidelines as our city sinks deeper and deeper into an abyss is not an option. Allowing helplessness and despair to take hold of us is not an option either."
Rhodes University, he said, is fully committed to the success of this initiative. "We are also aware that all of us have our own responsibilities. I have therefore taken it upon myself to approach our Council for funding to provide someone who is capable and competent to manage this initiative. We, as Rhodes University, will ensure that we provide this resource."
Chairperson of the GBF, Mr Richard Gaybba, declared further support for the initiative. "From business' side, we will see what we can do to assist with the fundraising of this Programme Manager," he said.
Paul Smith from Kagiso Trust, a self-funded NGO that is helping Makana Municipality with several community-building initiatives, said: "We will be here for a number of years and we are happy to contribute to capacitating and putting people in place to do some of the work required. We are not trying to be a silver bullet, but we are an interested party."
A representative from Eastcape Midlands College, a technical and vocational college in the Eastern Cape, offered to provide two interns to support the Programme Manager.
"The time for fine words and eloquent speeches is gone. Let us do all that we can to move this city forward. If you can imagine it, you can achieve it – and I believe we will achieve what we have set for ourselves," Dr Mabizela said.
Director for Communication and Advancement at Rhodes University, Luzuko Jacobs, said the plan was to "push hard for an inclusive and collaborative civic action for good. We hope to inspire enough confidence and seek to attract both public and private sector partners to experiment with a unique model to revive local economies in our country and to restore hope."