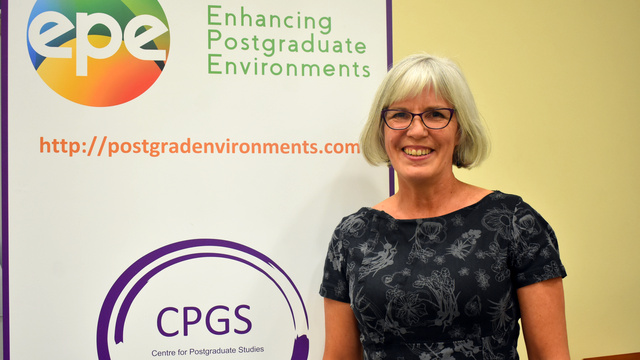 By Tanatswa Chivhere, Journalism and Media Studies student
The Rhodes University Centre for Postgraduate Studies (CPGS) closed off their annual Postgraduate Conference with a presentation from the Technology Transfer Team and a prize-giving ceremony.
The conference gave students the opportunity to showcase the contribution they are making in their respective fields. "Producing knowledge through research is joining a pre-existent conversation and it is up to postgraduate students to decide what they add to the conversation," said Lavern Sias, Administrative Assistant to the Director of the CPGS and one of the organisers of the conference.
During the two-day conference, the attendees received advice from speakers such as Professor Lynette Louw, Deputy Dean of the Faculty of Commerce and Professor Christopher McQuaid, SARChI Research Chair in Marine Biology. They also had the opportunity to attend seminars on each other's research and to share advice on how to develop their skills.
The Technology Transfer Team (TTT) took the opportunity to educate students about the kind of support they offer. Their main role is to identify, protect, manage and commercialise intellectual property (IP) emanating from the University. Technology Transfer Officer Pamella Ntshakaza started her presentation by encouraging attendees to be courageous with their research. "Even though people say there is 'nothing new under the sun', you can still make a novel discovery,'' she said.
If students are involved in research projects that they believe have protectable IP and can be commercialised, they can approach the TTT. They will assess the research and assist with the market research, IP protection and fundraising for technology development as well as advise students on what the next steps are. In compliance with the Intellectual Property Rights from Publicly Financed Research and Development Act (IPR Act of 2008), the students can choose whether they want to license their technology or choose to turn their research into a business through the creation of a spin-out company.
The TTT will assist in identifying possible investors. "These investors will also be able to own shares as a part of their equity. You can choose to be actively involved in the running of the spin-out or not, depending on your skills and abilities," Ntshakaza explained. "The University can assist by providing resources as well as the transfer or technology and IP for the successful establishment of the spin-out."
Students were encouraged to consider building spin-outs because they provide an opportunity to develop entrepreneurial skills and contribute to the local economic development and job creation. "A spin-out is a chance to build something that will last beyond your research,'' Ntshakaza said. Researchers also have the opportunity to invite their colleagues to be part of the team, as they can also offer their technical expertise, in order to help create employment and develop the technology. "Researchers are able to contribute to the industry by putting their findings to a bigger audience," explained Ntshakaza. The office hosts Lean Start-up Coffee sessions, where student entrepreneurs, researchers and students can come together and discuss the challenges of starting a business and share ideas on overcoming them.
There was an emphasis on how the opportunities are not limited to science students, students from all faculties are encouraged to identify IP in their research which might have a potential to be commercialised. Technology Transfer at Rhodes University has been running for over a year and currently manages more than 30 projects.
Throughout the conference, participants were challenged to tweet about their research under the hashtag #tweetmythesis. Students with the best and most popular tweets were awarded a range of prizes including gift cards from Van Schaik, 32GB USB drives and vouchers from the Rat and Parrot. Some of the award-winning tweets can be found at @CPGSru.
Professor Sioux McKenna, Director of the CPGS, closed the conference by encouraging attendees to speak about their research more often. "Research can be a lonely path which can easily be overwhelming. It's important to have people in your corner. These people will serve as a reminder that this is a shared struggle and you will all succeed in time," she said.