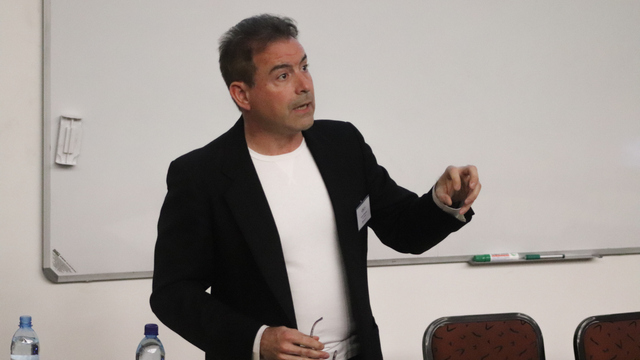 By Lindeka Namba, School of Journalism and Media Studies student
The 2019 Rhodes University Department of Economics Postgraduate Conference was held on 4 and 5 October at the Barratt Lecture theatre.
The annual conference sees postgraduate students from the Economics Department and elsewhere banding together to display their research results to an ever broadening group of intellectuals. The overarching theme for this year's event was 'A new dawn to Economics', which promised presentations full of new and fresh ideas. In attendance were staff and students from the University of Fort Hare, GADRA Matric School and Rhodes University.
In his opening address, Rhodes University Dean of Commerce, Professor Dave Sewry, gave a warm welcome to all delegates and guest speakers for the conference.
"Generating new knowledge or finding out what we do not know, is the very essence of research and the very essence of a research-intensive university like Rhodes University," Prof Sewry explained. He commended the presenters for focusing on topics specific to local, regional, national and international contexts. "In addition to varying geographical contexts, the topics themselves express an equally commendable diversity," said Prof Sewry.
He also encouraged delegates to attend presentations that were outside of their area of interest and competence over the two-day conference.
The guest speaker for the first day of the conference was entrepreneur, mentor, lecturer and author, Mr Ron Weissenberg. In his keynote address, Weissenberg shared on the topic 'The Economy and the Lived Experience'.
Weissenberg's main point was that the 'lived experience', for entrants to the commercial and economics environment is different from the narrative. We are told that "population growth, national debt and inequality are humanity's three main challenges", he said. "Not so, if one thinks critically and engages authentically."
Addressing the issue of inequality, Weissenberg noted that it is a part of not only the human species, but other primate species, too. Inequality is a natural condition and critical to the survival and evolution of humans, not something to be constantly judged and legislated against. He said it is impossible to legislate against aspects of human nature or regulate as politicians often try to do. When impractical regulation comes to the fore, we suffer greater economic issues and social problems as a result. Weissenberg also touched on the shift in the past 25 years to a social-services centred economy and, in addressing world government debt, said that it can never be repaid. "So rather concentrate on solutions which prevent uncontrolled debt from spiralling. What I have seen in my 30 year journey is that the more things change, the more they stay the same and we just give them a different name," he stated.
The guest speaker for the second day was University of the Witwatersrand (WITS) PhD student and World Bank Analyst, Tlhalefang Moeletsi. His presentation focused on 'A changing world with the landscape of a digital economy in South Africa'. In South Africa, the overall picture is positive, mainly due of the infrastructural background that the country has. He outlined five pillars of the foundation of the digital economy in South Africa, which included: digital infrastructure; digital skills; digital platforms; digital financial services; and digital entrepreneurship.
"The key challenge for South Africa's digital economy has been the digital divide," he expressed. "There is a significant gap between those who are connected and those who are not connected."
Moeletsi believes there are opportunities and threats to digitisation, but if we have the right policy framework, we can respond to these in a way that are beneficial.
Parallel research presentation sessions were hosted in Barratt lecture halls and seminar rooms, which covered different topics spanning from poverty amongst women in SA to the fourth industrial revolution (4IR).
As the conference drew to a close, Economics and Economic History Professor, Jen Snowball thanked the delegates and participants of the two-day event. She made special mention of the co-ordination team, which comprised of some the Department's Senior Lecturers and the Conference Committee.