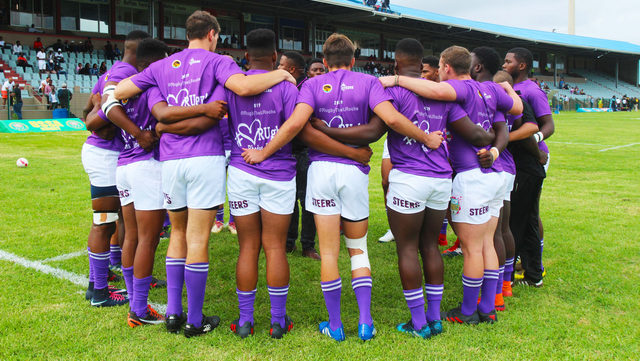 By Julian A Jacobs, PhD candidate, School of Journalism and Media Studies
FNB Rhodes Stallions grinded out a victory against Eastern Cape neighbours, FNB Fort Hare Blues, in an epic Varsity Shield derby match at the BCM Stadium in East London last night, winning 13 -12.
Rhodes were the first on the score board leading 3-0 after a penalty was awarded to them. This prompted a response from Fort Hare Blues and they scored a try in the 10th minute of the match by centre, Sanela Joel to make it 3-5 for the Blues. The conversion was not successful. Rhodes got another penalty and led 6-5 into the break. Rhodes Stallion supporters were outnumbered at the BCM stadium but they kept on singing and dancing to spur their team on.
In the second half, Fort Hare scored another try through Zikana 'The Butcher' Mpembe to make it 12–6 with 25 minutes to go. But Rhodes' tenacity, team spirit and defensive play carried them through the next phase of the match as they kept attacking Fort Hare Blues on the counter. This ploy finally paid off as Cameron Amos finally emerged over the line to score what turned out to be the winning try.
The FNB Varsity Shield 'Man of the Match', Cameron Amos, crossed the line in the 74th minute of the match to make the score 11-12 with a conversion to come. The conversion was successful to make 13–12 in favour of Rhodes. The Stallions held on and tabled their first win in the tournament for over 2 seasons.
Highlights of the match can be found at:
https://www.supersport.com/rugby/varsity-cup/video/1045384
The Stallions play the Madibaz (Nelson Mandela University) on Monday, February 25 in Port Elizabeth before entertaining Walter Sisulu University for their first home match on 4 March 2019.