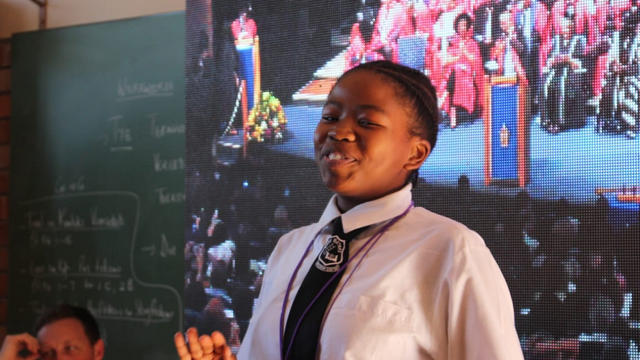 By Matebello Motantsi, Honours in Journalism and Media Studies student
Fulfilling its commitment to individual and social transformation, Rhodes University Community Engagement (RUCE) division in partnership with the University's Communications and Advancement division, continued with their initiative of live screening graduation. The six graduation ceremonies commenced on Thursday, 11 April and ended on Saturday, 13 April 2019.
The screenings at the schools took place on Thursday and Friday at 14h30, respectively and grade 11 and 12 learners were invited. According to the University's Senior Coordinator: Community Relations and Student Organisations, Nosi Nkwinti, 14h30 was a suitable time to avoid causing disturbance on the learners' daily school time-table and learning traditions.
On Thursday, learners from Khutliso Daniels, Ntsika and T.E.M. Mrwetyana secondary schools joined their peers at Nombulelo Senior Secondary School where the first screening was held. On Friday, learners from Nathaniel Nyaluza Public Secondary School and Mary Waters High School assembled in a classroom at Mary Waters for a similar experience.
For most of the learners, it was their first experience to witness a graduation ceremony largely due to the fact that most are from families where none of their preceding siblings and older family members have gone as far as higher education and graduation levels. While most attended purely on the basis of drawing inspiration from what they had anticipated to watch, learners from T.E.M. Mrwetyana said their attendance was extra special, because they had come to support their Life Orientation and Social Sciences teacher who was also walking the graduation stage during the Law, Pharmacy and Commerce ceremony.
The learners' excitement and participation echoed the air in Guy Butler theatre at the 1820 Settlers National Monument, where the actual ceremonies were held. Learners participated and reacted with enthusiasm to the formal addresses and everything that took place on stage. They sang along with the National Anthem, they applauded graduates and were fascinated by the glitz and fashion portrayed by the graduands and their guests.
Furthermore, 2019 graduates from Makhanda joined the school screenings as special guests. They engaged extensively with the learners about issues central to studying and graduation and talked about their own journeys while at Rhodes University. The graduates also shared tips and routines of study, and how students should rise above academic challenges.
Nombulelo Senior Secondary's 2016 Representative Council of Learners President and current Student Representative Council academic counselor at Rhodes University, JJ Makhunga, advised learners to take advantage of the resources that Rhodes has availed to their disposal.
He pointed to RUCE as the starting point for those who wish to be at the University. Makhunga also highlighted the importance of attending Rhodes University open days for those aspiring to join the Rhodes family.
Another inspiring speaker, Zuko Gqadavama, who was graduating with Honours in Psychology, spoke about the importance of mentorship. He said in his personal and professional experiences, mentorship allows learners to see further than their situations at home. He said his mentors worked on the development of a student holistically, and not simply focusing on school, because if ''they devote all of their time to books, they will never learn how to grow in other areas of life".
Learners said that the whole experience was inspiring for them and they could not wait to graduate one day. Principals and teachers extended their gratitude to the University for having brought the 'graduation fever' to their schools.