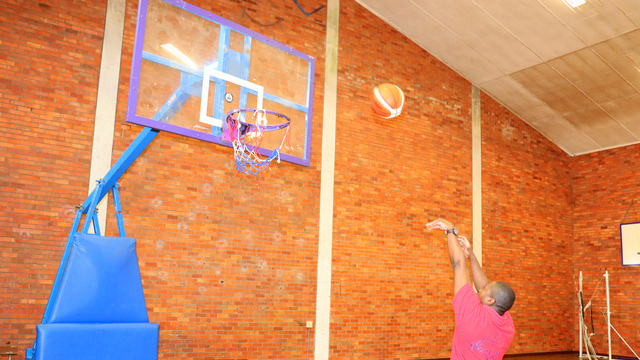 When perseverance, dedication and commitment meets opportunity, a dream is fulfilled. This is the feeling of Xolisa Kula, an Admin Assistant for the Department of Student Affairs at Rhodes University, who was recently appointed as the coach for Windbreakers Basketball team. Windbreakers is a professional team that plays in the Basketball National Leagues.
Xolisa is also the coach for the Rhodes University ladies basketball team (Titans). He has won numerous accolades and he was honoured for his outstanding performance by the Nelson Mandela Bay Basketball Association (NMBBA) at an annual awards presentation at the Raymond Mhlaba Indoor Sports Centre in 2018.
Xolisa spoke to Hazel Simpo, a student freelancing for Rhodes Communications, about his journey and appointment.
Q: Tell us about your background in sports and particularly basketball
A: I started playing sports at the age of 8 when I was still at Graeme College and I was involved in numerous sporting codes such as rugby, cricket, tennis, squash and many more. When I was 14 years old, I was introduced to basketball by Sipho Maganca who was nicknamed 'Marlone'. He met me one day on my way from school rugby practice and he said I should join his basketball team. From then, my love for basketball grew and I could not even afford to miss one basketball session. I was fortunate enough to be one of the representative of the Eastern Cape at the then 'Love Life' games. I moved to Port Elizabeth at the age of 22 to coach the basketball ladies team for Nelson Mandela University and I have been in love with the sport ever since.
Q: What do you like most about basketball?
A: I love basketball because it encompasses other cultural activities such as hip-hop music, poetry, dress code and many other unique and fascinating activities and that drew me closer to it. Additionally, basketball comes with a lot of teachings which I will pass on to the young and upcoming players.
Q: What does your appointment mean for yourself, Rhodes University and Grahamstown at large?
A: I honestly think it is a very enormous opportunity, especially for a small town such as Makhanda and the province. Personally, this means getting the job done, changing the culture that we have for the game as Rhodes University and Makhanda. I will be able to change the style of the play, introduce new blood, mix it up with experienced players and many more new and exciting techniques. My appointment also means that I use my experience to impart on the Rhodes University and Makhanda players. Recently, we had the final trials and two of our boys from Rhodes University were selected for the final training squad; Tafadzwa, Lubambo and a young boy by the name of Raymond Todd from St Andrews. This is living proof that others will benefit from my appointment.
Q: How will you use your experience from Windbreakers to support the ladies team?
A: Tactically, yes it helps a lot because through coaching the Windbreakers, I will be competing with highly experienced coaches who have competed in local, national and international games. I always take the lessons from every game we play and pass what I learn from there to the ladies team. If you ask the Titans, they will tell you that I am someone who is always eager to learn from other people and from our own experiences - for example, how to do certain drills, introducing them to new playing styles and so forth. Currently, we are busy with the University Sports South Africa (USSA) qualifiers and I am proud to tell you that the Rhodes University ladies team is currently number one on the log, and we therefore we are pushing to qualify for the USSAs, be in the top 8 and compete in the Varsity Sports.
Q: How do you cater for the respective needs of both teams?
A: There is not much difference between the two teams, except that the tempo of the ladies game a little bit slower compared to their counterparts. Ladies have a high IQ when it comes to basketball, they are better shooters, disciplined, pay attention and put what you teach them into practice. Interestingly, I learn a lot from the ladies and I then implement that on my boys (laughs). I always listen to the views and suggestions and I always expect 100% commitment from both teams.
Q: How do you balance your personal and professional life?
A: It's not easy, I wouldn't lie. It needs a family and partner that understands your other commitments. It all needs planning and making sure that you prioritise, otherwise if you fail to do that, your life will be upside down. I have a very supportive family, to the extent that I sometimes feel like I ask too much from them. This is because I am regularly away from them and when I get the chance, they really treasure those moments. Their love and encouragement goes a long way and that gives me strength every day. If it was not for them, I would be able to strike a balance between my personal and professional life.
Q: What is your advice to the aspiring basketball players in a small town like Makhanda?
A: My advice is for them to not only focus on playing basketball, but also pay interest to their academic life so they can get to universities. There are scholarships available in our local universities that can assist them in fulfilling their goals. They have to have work hard and never give up because nothing is easy. Stay healthy and seek advice from others.