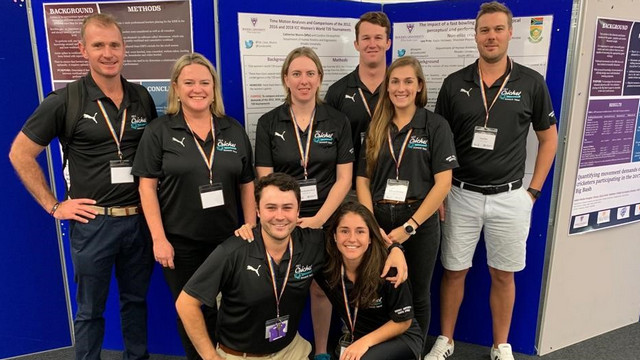 More than 100 delegates from 20 different countries around the world attended the 6th World Congress of Science and Medicine in Cricket Conference (WCSMC) in July 2019, including several Rhodes University representatives.
The conference was held at Loughborough University in conjunction with the scheduling of the semi-finals of the ICC Cricket World Cup, and included a cricket research group, led by Associate Professor Candice Christie from Rhodes University's Human Kinetics and Ergonomics (HKE) Department.
Loughborough University's School of Sport, Exercise and Health Sciences has been rated as the best in the world for sports-related subjects in the global Quacquarelli Symonds (QS) higher education league table for the last three years.
The purpose of the conference was to facilitate constructive dialogue and collaboration on themes relevant to sports scientists, sports medicine practitioners, physiologists, academics, teachers, students, administrators and coaches with an interest in the latest research in cricket.
There were some extremely enlightening keynote lectures and presentations divided into several topics: batting and bowling adaptation and injury prevention, talent identification and development, strength and conditioning, preparation, stress and technology in cricket. Alongside the main conference sessions, additional sales demonstrations (VICON, iMeasure and Batfast), social events (Loughborough vs delegate cricket match) and workshops (fast bowling, strength and conditioning in elite players, and emergency care in cricket) enriched the programme.
Rhodes University delegates gave the following poster presentations:
Robert Sholto-Douglas (MSc): "Quantifying movement demands of elite cricket players participating in the 2017/2018 Big Bash League"
Dr Lee Pote (Postdoc): "The impact of a fast bowling spell on physiological, perceptual and performance responses in non-elite cricketers", "Workloads placed on adolescent cricket players"
Devon Barnard (MSc): "Workload does not impact performance responses in the Indian Premier League cricket"
Cathy Munro (PhD): "Time motion analyses comparing the 2012, 2016 and 2018 ICC Women's World T20 Tournaments"
The following oral presentations were presented:
Professor Candice Christie: "Workloads and injury risk in elite South African cricket fast bowlers: A snapshot of one season"
Kayla McEwan (MSc): "Get sleep or get stumped: Sleep behaviour of elite South African cricket players during competition"
Cathy Munro (PhD): "Workload monitoring of an elite South African women's cricket team during the 2018/2019 season"
Belinda Campbell (MSc): "A pilot study to investigate the time of day effects on perceptual, physical and performance indicators of adolescent fast bowlers"
The cricket research group, led by Prof Christie, formed the largest representative group, showcasing high quality research related to injury risk and workload management in both the Protea's Men and Women Teams, The Hobart Hurricanes, Kolkata Knight Riders & the Bangladesh National Men's Team.
Rhodes University's HKE would like to thank the organising committee, especially Mark King, Paul Felton and Pete Always, for their dedicated assistance. The National Research Fund, Rhodes University, Rhodes University Sport Foundation and Rhodes University Alumni all provided sponsorships for this opportunity.
"The conference was thoroughly enjoyed by all, and allowed for new insight on solutions to the current practical problems in cricket, as well as prospective research collaborations," said Prof Christie. "Without the hard work of our organising committee and the financial support of our sponsors, none of this would have been possible."