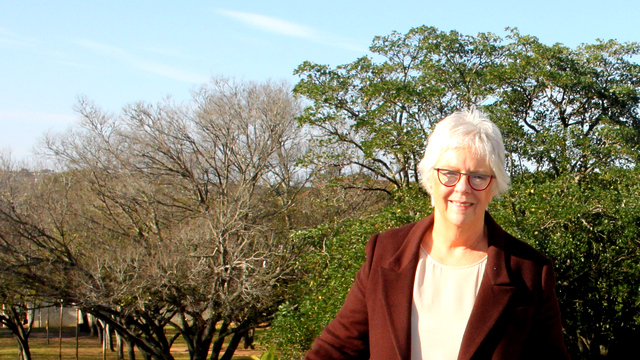 With August being Women's Month, the Rhodes University Community Engagement (RUCE) Division acknowledged and celebrated recently retired Deputy Vice-Chancellor, Professor Chrissie Boughey, with an interview in its Engagement in Action podcast.
"If you walk across the stage at graduation and all you have is knowledge, then we have failed you as a university," said Professor Chrissie Boughey in a speech. This sets the tone for the podcast episode, where Prof Boughey talks about her journey at Rhodes University and her passion for community engagement.
Prof Boughey retired as Deputy Vice-Chancellor: Academic and Student Affairs in June 2019. Central to her work at the University was a focus on the integration of community engagement into all aspects of university life, driven by her deep conviction that Rhodes University is uniquely placed to create graduates who have acquired much more than just information and skills. In this edition of Engagement in Action, she tells Jayne Morgan about the realisation of her vision of community engagement as a key pillar of what the university has to offer.
You can listen to a podcast of her story on https://iono.fm/e/729704