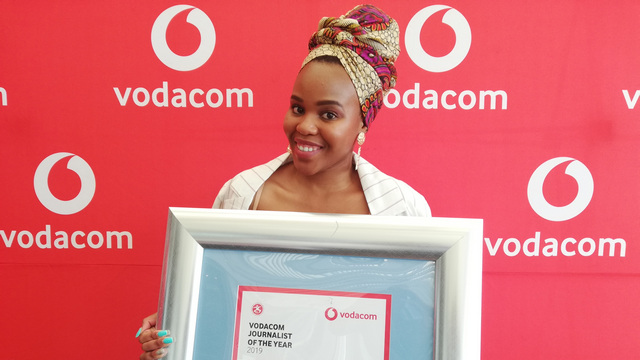 Rhodes University School of Journalism and Sociology alumna, Andiswa Matikinca, has been awarded a regional Young Journalist of the year award by Vodacom, who held its 18th annual Vodacom Journalist of the Year Awards across the provinces. Andiswa won at the KwaZulu-Natal and Mpumalanga regional awards held at Bel Punto restaurant, Umdloti, north of Durban on Thursday, 07 November 2019.
The Oxpeckers Associate and Manager for #MineAlert digital tool graduated with a BA majoring in Sociology and Media Studies at Rhodes University in 2018. She joined Oxpeckers in September 2018 as an Intern and three months later took over the role of Programme Manager. She has overseen the launch of Mining your Water, a geojournalism tool that tracks water use licence applications and licences for mining developments.
Andiswa said her award was a great pat on the back. She said: "This is a great recognition and acknowledgement of the work I do. It is like having someone say 'we see what you do and keep doing amazing work'. I would not have won this award without the support of my parents, who have been there from day one. Many parents want their children to be doctors, lawyers, scientists and other prominent professions, but mine supported my dream. I just hope this award opens plenty more doors for me."
"For the Vodacom Young Journalist Award, entrants had to submit a body of work done while working in a newsroom for less than three years, along with a strong motivation showing commitment to the vocations of news well above the norm. These awards are designed to pay tribute to those journalists who boldly tell the truth and challenge the status quo, leaving no stone unturned in the pursuit of the truth," said Vodacom's convener of judges, Ryland Fisher.
Andiswa advised student journalists to persevere in turning dreams into reality. "The way to get out of the Africa Media Matrix (headquarters of Rhodes University's School of Journalism and Media Studies) is hard work and dedication. There is a lot of pressure at the School of Journalism but that should not deter students from working hard and go all the way to the Monument for graduation. Hardships begin after graduation, because this is a competitive world and jobs are scarce. Students must try to acquire all the skills taught at the University, such as photography, videography, writing, digital media and other relevant skills," she added. She suggested that Africa Media Matrix should explore environmental journalism in their curriculum.
Andiswa's title automatically puts her in line as a finalist for the national Vodacom Young Journalist of the Year Award, due to be announced at the Vodaworld (Vodacom's national office) in Midrand on Thursday, 21 November 2019. The winner of the national Young Journalist of the Year Award will win an all-expense paid overseas trip, which includes a visit to the media development non-profit organisation, Thomson Foundation, in London. They will also have an opportunity to work in the Foundation's newsroom.