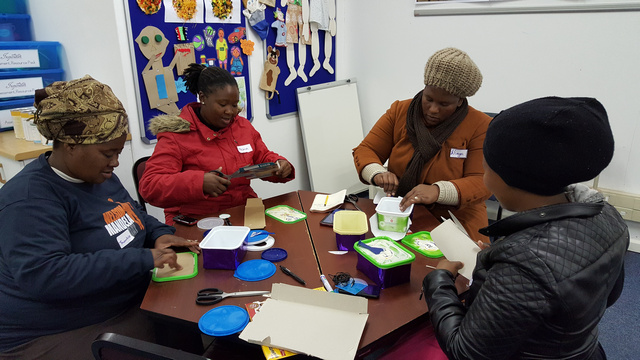 The Rhodes University Community Engagement Division (RUCE) is encouraging citizens of Makana to join its Vuka! Makana initiative in honour of Nelson Mandela's birthday this week.
Vuka! Makana, which officially launched in May this year, plans to connect, encourage and showcase community initiatives that contribute to 'Making Makana Marvellous' – for 365 days of the year.
"Most people will be familiar with our traditional Trading Live programme, in which RUCE co-ordinated city-wide initiatives around Mandela's birthday. However, Trading Live has been reshaped to extend the reach and time-period into a year-round Makana-focused initiative, called Vuka! Makana," said Di Hornby, Director of RUCE.
The transition from Trading Live for Mandela Week to Vuka! Makana is a move from a one-weeklong event in the year towards a more structured yearlong initiative which seeks to connect all Makana citizens and build mutually-beneficial relationships that will, as Vice-Chancellor Dr Mabizela often says, "brighten the corner where we are" and contribute meaningfully to developing Makana.
The Vuka! Makana programme uses the 25 Sustainable Development Goals (SDGs) as a basis to connect individuals, organisations and groups already working towards solving Makana's many issues.
"This week, we hope to encourage and challenge all those who are still planning to engage to roll up their sleeves and be part of the movement for change," said Hornby.
Vuka! Makana takes the form of a platform to unite and call on all citizens to join the movement for positive change. RUCE recognises those who participate by issuing certificates of acknowledgement when they meet the initiative's milestones.
RUCE urges all citizens of Makana to celebrate Nelson Mandela Day by registering on the Vuka! Makana platform and contributing to the initiative.
Citizens can follow these simple steps:
Identify a challenge faced by our community. Follow this link to look at the identified list of SDGs for ideas: https://bit.ly/2YOSWtc
Connect with a partner (organisation/individual/group) of your choice.
Organise your activity and execute it during Nelson Mandela's birthday week (15 to 21 July).
Log your activity on the Vuka! Makana platform: https://goo.gl/forms/Y0J08GreDbWSBGHI3
After Nelson Mandela Day, you can continue your participation in Vuka! Makana. See how here ru.ac.za/communityengagement/vukamakana
For detailed information on how this initiative works, please visit the Vuka! Makana portal: www.ru.ac.za/communityengagement/vukamakana.
For assistance, please contact Nosi Nkwinti on 046-603-7482 / 046-603-7229 or n.nkwinti@ru.ac.za.