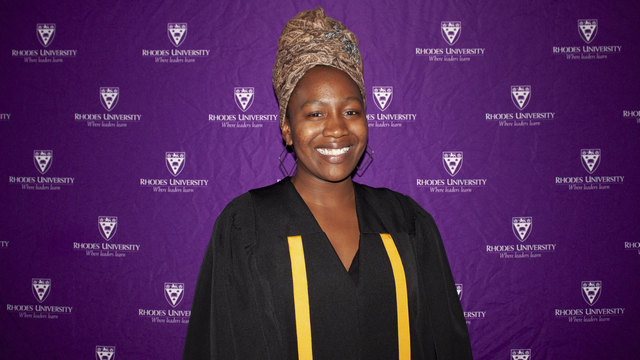 By Lindeka Namba, School of Journalism and Media Studies student
The night of 16 August was a monumental victory for women in leadership as Rhodes University inaugurated its 2020 Student Representative Council (SRC), with a total of 13 out of 15 positions being filled by women.
This prestigious event was hosted at the Eden Grove Red lecture theatre and saw the Rhodes University community, which consisted of senior university staff members and students, come out in numbers to support the august gathering.
SRC Liaison Officer, Mr Eric Ofei, began the evening by explaining why the occasion was necessary. "The reason for the inauguration ceremony is to impress on the newly elected councillors the seriousness of the work they are about to do," he explained.
The night unfolded with inspirational speeches delivered by the Director of Student Affairs, Ms Nomangwane Mrwetyana and Statistics Lecturer, Ms Thina Maqubela. In their speeches, they urged the up-and-coming leaders to lead ethically, be self-aware and be mindful of their wellbeing as they go into office.
When called to speak, the outgoing 2019 SRC President, Mr Samkelo Mngadi, said, "Remember two things: humility must be the blazer you wear every day, and secondly, the student interests must be your office and every platform you have must use as the soap box upon which you stand and advocate for student interests."
Student Bureau Manager, Ms Desiree Wicks, announced that, once again, quorum had been reached in this year's elections with 46.46% voter turnout. Wicks announced the number of votes for both the runners up and for those who had emerged victorious for every post. As she called out the names of those who had been elected into office for each portfolio, it was evident that women would take up the majority of the positions.
As the moment for the announcement of the 2020 SRC President drew nearer, Wicks noted that the presidency had a narrow victory with Ms Katlego Mphahlele exceeding her Vice-President, Mr Masixole Njengele, by just under 100 votes.
An emotional Ms Mphahlele took to the podium and expressed her appreciation to the Rhodes University student body for entrusting her with such an important role. "A few years ago, this was just a dream, a conception, but on this day it has become a reality," she said. She congratulated her fellow council members on their newly-acquired leadership positions and implored them to work with her as they all seek to represent the student body to the best of their abilities. Amongst other things, the newly-elected president affirmed that as a council, they would embody transparency, professionalism, and good and open communication systems, as they work tirelessly to move the redemption message into reality.
The night ended in high spirits as many celebrated the victory of a majority female SRC, especially with August being celebrated as Women's Month in South Africa.
The results for SRC 2020 are as follows:
President: Katlego Mphahlele
Vice President: Masixole Njengele
Secretary General: Shanti Khosa
Treasurer General: Ubenathi Sisusa
International Affairs Councillor: Beverly Chanaiwa
Oppidan Councillor: Naledi Zihle
Community Engagement Councillor: Leboghang Nkambule
Media Councillor: Xiletelo Mabasa
Student Benefits and Sponsorships Councillor: Zandile Gcumisa
Environmental Councillor: Putuma Balintulo
Projects Manager: Ryan Osborne
Activism and Transformation Councillor: Tanaka Makaure
Sports & Societies Councillor: Litha Stuurman
Residence Councillor: Zenande Mnyephika
Academic Councillor: Laura Eastham