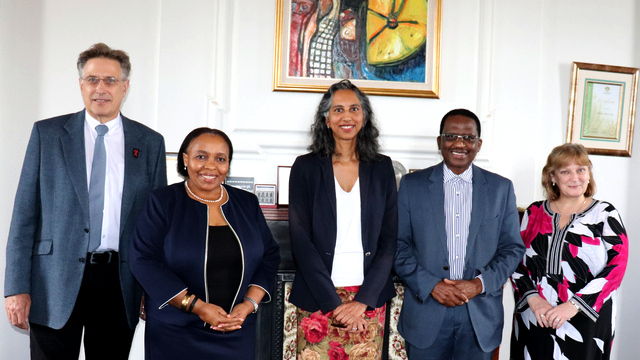 On Monday, 10 February 2020, The Australian High Commissioner to South Africa, HE Adv Gita Kamath, paid a courtesy visit to Rhodes University. She met with Rhodes University's Vice-Chancellor, Dr Sizwe Mabizela, his Deputy Vice-Chancellors, Dr 'Mabokang Monnapula-Mapesela and Dr Peter Clayton, and the University's Internationalisation Office Director, Ms Orla Quinlan, to discuss ways of strengthening partnerships between Australian higher education institutions and the University.
Advocate Kamath, who has been in the country for six months, is the High Commissioner to South Africa, Botswana, Eswatini, Namibia & Mozambique, as well as the Ambassador to Angola and High Commissioner designate to Lesotho.
South Africa is Australia's largest export market on the continent, and partner in important forums such as the G20 and Indian Ocean Rim Association, as well as co-host of the ground-breaking Square Kilometre Array telescope, in which Rhodes University plays a leading role.
"We are always interested in the opportunity to bolster ties with Australian institutions and today we are discussing how Advocate Kamath's office might help us facilitate further strengthening of relationships and partnerships with some of them," explained Dr Mabizela.
Adv Kamath mentioned Australia's flagship postgraduate scholarships programme and the Australia Africa Universities Network as possible partnership avenues to explore.
According to Adv Kamath, it was her first visit to Makhanda (Grahamstown) and she was very impressed by the city's atmosphere and the integration of different cultures. "What a surprising place; it's extraordinary," she expressed.