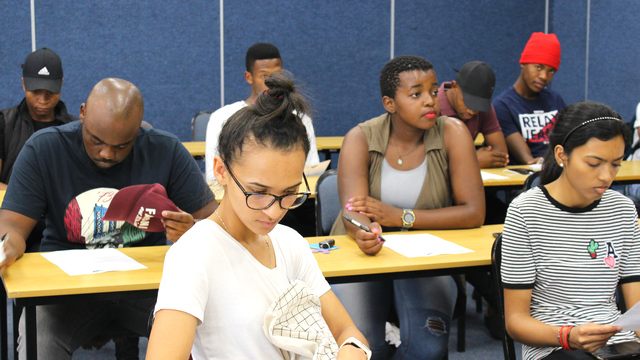 By Poelo Keta , third-year BJourn student
Twenty-four Rhodes University BPharm (Bachelor of Pharmacy) students were visited by a Click Group Quality Assurance Manager, Unati Xulubana, recently. The reason behind the visit was to discuss the bursary agreement and for the students to sign in order to receive their funding.
The students will start receiving the funding amount capped at R55 000 to be paid directly to the institution as of April 2020 and again in July 2020.
The 24 BPharm students are comprised of 21 second-year students, one third-year student, and two fourth-year students. The bursary does not fund first years. "Although we are sponsoring BPharm students in all the institutions that are offering this course, Rhodes University has the biggest number of our bursary recipients this year," Xulubana explained. Besides Rhodes University, the bursary is also being offered to Wits, North West University, University of KwaZulu-Natal, Nelson Mandela University, Sefako Makgatho Health Sciences University, and the University of the Western Cape.
Furthermore, Xulubana told students that the requirement to be eligible for this bursary is a 70% average per academic year. In addition to the funding amount that covers registration fees, tuition fees and prescribed textbooks, the Clicks Foundation will also be sponsoring the students' clinical coats.
Students are encouraged to apply for additional funding from the National Student Financial Aid Scheme (NSFAS) to cover their residence fees.
Xulubana explained that students are no longer required to strictly complete their practical hours at a Clicks pharmacy, and that they now have the freedom to complete their internships at any pharmacy of their choosing. This came as a relief to the bursary recipients, since Makhanda currently has just one Clicks store and many students come from areas that do not have a Clicks store nearby.
Lethukuthula Shamase, a third-year BPharm student from Nongoma, a small town in KwaZulu-Natal reflected on how much this bursary means to him and his family. "This bursary will help me a lot with my finances because NSFAS usually doesn't cover what this bursary covers and I also have the advantage of doing my practical hours at Clicks and therefore experience a different dimension of retail pharmacy," he expressed.
In Nongoma, Shamase said, access to information is difficult and many are not even aware they qualify for bursaries. "We see our parents struggling every day to pay our fees. Getting this bursary, and working hard for it, gives our parents peace of mind."
The Clicks Foundation Bursary Scheme was founded in 2011 and it has been funding students ever since. Applications for pharmacy internships will be advertised in October 2020 and students are encouraged to apply and register their CV on the Clicks website by September.
"We are thrilled that Rhodes University has the highest number of recipients this year with an almost 50% increase from last year. The primary objective of Isivivane is to increase the number of students on both internal and external bursaries and we are happy to see that students are responding positively to the calls to make applications," explained Rhodes University's Development Fundraiser for Campaigns, Luyanda Bheyile.