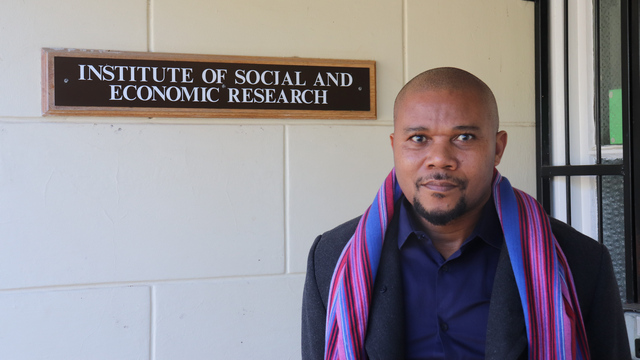 Rhodes University's Institute of Social and Economic Research (ISER) has welcomed its new Director, Professor Cyril Nhlanhla Mbatha, who assumed duties last month. Prof Mbatha is no stranger to the University as he used to be a senior lecturer in the Institution's Department of Economics and Economic History. He comes from Pretoria, where he acted as the Executive Dean of the School of Business Leadership of the University of South Africa (Unisa) before coming to Rhodes.
The newly-appointed Director was born in Durban but grew up in the East Rand township of Katlehong, Gauteng, and attended schools there during the 1980s school riots and the political violence of the late 1980s to early 1990s. He said those events formed his sense of self and purpose.
Prof Mbatha worked as the first Director of the Young African Leaders Initiative (YALI) at Unisa. This is a strategic project for Africa by the 44th United States President, Barack Obama. It is a signature effort to invest in the next generation of African leaders. "I am always proud that I led a team of colleagues from the University of Pretoria, the Thabo Mbeki Leadership Institute and the Innovation Hub, and others to establish and run that Regional Leadership Centre for Southern Africa."
"Academically, I come from Rhodes University's Department of Economics and Economic History. I studied and taught numerous Economics modules at Rhodes University from 2005 until the end of 2009. During that time, I also did research consulting on Environmental and Trade Economics issues for organisations including the Water Research Commission, the World Trade Organisation and the UNDP Botswana," Prof Mbatha explained.
Prof Mbatha left Rhodes University to join Unisa's Department of Economics as an Associate Professor in December 2009, where he taught Microeconomics until he joined the Human Sciences and Research Council as Chief Research Manager and was Head of the Labour Markets Research Unit in 2012. He then joined Unisa's School of Business Leadership and occupied various leadership positions.
His research interests are in the areas of water and land resources management (including water and land reform policies in South Africa), skills development and education challenges for labour market outcomes, and research on international trade flows of agricultural goods.
Describing himself, he said: "I love putting robust management systems in place to support a predictable and accountable work environment. I like establishing and keeping simple structures and relations with people and stakeholders. This allows me to keep generally happy and positive relations with others. So, I generally look for solutions to make things understandable to everyone. I think I have a strong sense of what is just and fair (in the short and long term) and from this base, I make decisions including those regarding management challenges."
"I am here to rebuild the ISER as mandated by the University management. When the mission came to my attention I had been looking for an academic space where I could establish a unit focussed on South Africa's land reform project for commercial agriculture. Hence one of the research focus themes of the ISER now is in this area. This is in addition to other themes including research activities on education and skills development for both formal and informal employment opportunities and cross-border trade in Africa. In this sense, I am grateful that the University has agreed to my proposal of re-building an institute that would do this work for the benefit of the local and the national environment," he said.
He said he is happy to be back at Rhodes University as it feels more like he is contributing to a common mission than working, since he is with colleagues that know, understand and support similar objectives and shared values across the university.