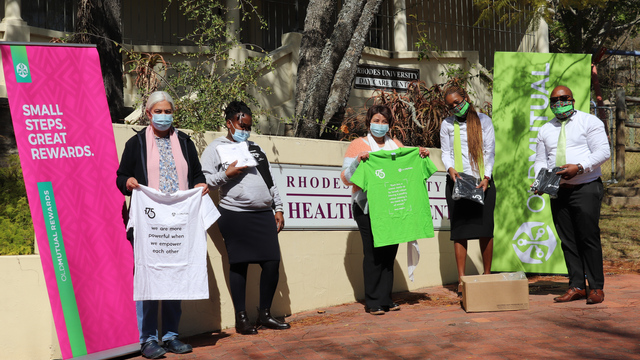 Nurses at Rhodes University Health Care Centre (HCC) are used to people going into their offices seeking help. However, Old Mutual Grahamstown branch turned this around by going to the HCC to donate masks and t-shirts. According to the Branch Manager, Nosicelo Yanta, this was done in honour of the women frontline workers at the HCC.
Rhodes University Institutional Wellness Specialist, Thandi Mzizi, said he decided to approach Old Mutual to see if they could donate anything towards the appreciation of nurses at the HCC. "We wanted to remind them how special they are and how important they are in the fight against COVID-19. This was a way of trying to uplift their spirits, especially after they lost one of their colleagues due to this pandemic," he said.
Yanta said when they received the request from Mzizi, they wanted to use the opportunity to appreciate these women, as most of them are also Old Mutual clients. "This is a small token of gratitude to women, especially those in the frontline. We want to say to them that we are together in this fight against the pandemic," Yanta said.
Head Nurse at the HCC, Sister Heather Ferreira, welcomed this beautiful gesture from Old Mutual. She also thanked Mzizi for always going out of his way to ask for assistance on their behalf. "It feels good to be appreciated, especially during this difficult time. Some women are still suffering at the hands of men; and we are hoping that all men can take a stand against Gender Based Violence. It has not been easy for us women and frontline workers, but we are glad that our sacrifices have not been in vain," she said.