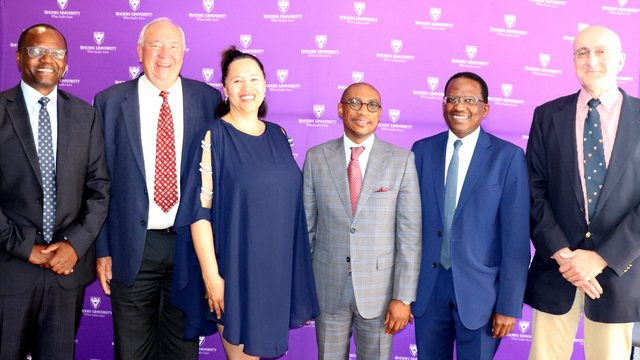 Rhodes University recently hosted a special luncheon to honour four of its outgoing governors as Honourary Life Members, at Le Petit Manor in Franschhoek, Western Cape.
The four distinguished honourees had all served as members of Rhodes University's Board of Governors (BoG) for many years. They included outgoing Chairperson, Mr Mike Spicer, and outgoing board members Mr Royden Vice, Mr Chris Rumble (in absentia) and Mr Andy Andrews (in absentia).
Besides the outgoing governors' family members, several Rhodes University representatives were in attendance including: Chairperson of Rhodes University Council, Mr Vuyo Kahla, Chairperson of the BoG Mr Andile Sangqu, Vice-Chancellor, Dr Sizwe Mabizela and Registrar, Dr Adele Moodly.
"It has indeed been a dream of a lifetime to have witnessed the extraordinary service of our honourees," said Mr Kahla. "Even as we have rightly pursued the University's transformation agenda, the governors we honour today, along with their colleagues, have been particular in requiring that this transformation results in a university that is better and more excellent than the one we inherited."
Mr Spicer started his journey at Rhodes University as a student in 1971, where he completed an MA in History. In 2009, he was elected to the Board of Governors and by 2012, he was serving as Chair.
Mr Spicer thanked Rhodes University and members of the Board for having helped shape his experiences. He told the current Board: "I will still be observing from the sidelines and hopefully participate from time to time as well."
Mr Royden Vice, who started at Rhodes University in 1966 as a BCom student, joined the Board in 2005 and served as Chairman of the Finance Committee for his entire tenure.
"It is an honour to receive this award, as Rhodes University is very close to my heart," he said. "My wish for the future is for this university to keep growing, maintaining its standards and that it lives up to a higher educational level than it has achieved in the past. And looking at the current leaders and committee members, I would say this is very doable. Rhodes University is in good hands and I look forward to reading about its ongoing success in future."
Mr Sangqu presented each of the outgoing governors with a Dedication Award trophy in recognition of their outstanding contribution, commitment and dedication to the University.
"The work you did, you did it because of the love, passion, and resoluteness you have for education in general, and to Rhodes University in particular. You have truly embraced the spirit if Ubuntu," Mr Sangqu said.
"We, as new members of the Board of Governors and Council, are honoured to be standing on the shoulders of visionary giants such as yourselves," he told the outgoing governors. "You are indeed a tough act to follow, yet we are proud of what you have accomplished."
A recap can be seen here: https://youtu.be/sYCkXfanbQw