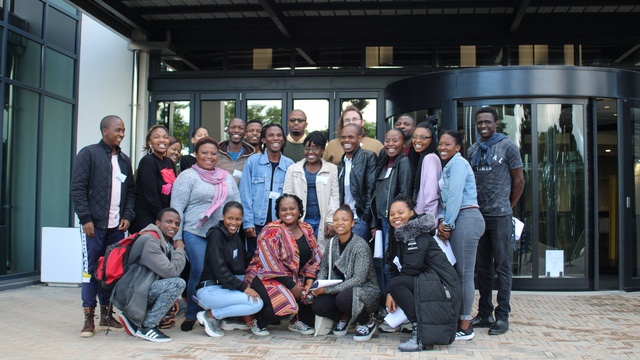 By Karabo Baloyi, MA student
Rhodes University, in association with the South African Institute for Aquatic Biodiversity (SAIAB), hosted the first annual FameLab regional science heat at the Amazwi South African Museum of Literature on Monday, 16 March 2020.
The Faculty of Pharmacy's Head of Pharmaceutical Chemistry, Dr David Khanye, welcomed the participants and encouraged them to learn to communicate their research to people outside their field. "FameLab is very important in helping scientists communicate science to the public," he said. He added that the creation of knowledge is important: "Some of the research you will tell us about may one day be translated into policies that will be incorporated into parliament."
FameLab is one of the biggest science communication competitions in the world. It aims to teach young scientists to communicate their research to the public through a series of "heats" where participants have three minutes to explain the significance and purpose of their research. The winners advance to national, and finally to the international competitions in the United Kingdom.
The regional participants were from Rhodes University, Walter Sisulu University, and Nelson Mandela University. They presented research ranging from science learning and teaching in mother tongue languages to the value of using nanoscience to target cancer cells for better treatment.
The organizer and Rhodes University Pharmacy Senior Lecturer, Dr. Nosiphiwe Ngqwala congratulated the participants on their courage to enter the competition: "Younger students will look up to you for inspiration and will also be encouraged to go for a career in science," she said. "By changing the narrative associated with science, you will change the world."
The winners of the regional heat were Rhodes University's Yenziwe Mbuyisa and Nelson Mandela University's Sendibitiyosi Gandidzanwa. They will participate in the national competition in Johannesburg later this year.
* Please note that this event was pre-planned and it happened immediately after the President pronounced a national state of disaster due to the Covid-19 outbreak. As a result, SAIAB and University of Fort Hare pulled out and the event was adjusted to run over a one day period instead of two. Hygiene conditions and rules as set out by the President were strictly adhered to for the duration.