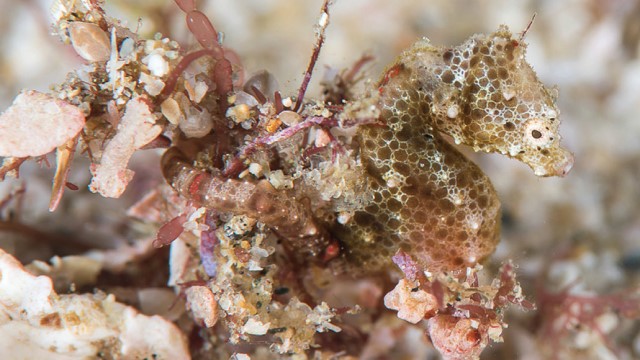 By Douglas Main
In waters off eastern South Africa, a group of researchers, including Research Associate of Zoology and Entomology at Rhodes University, Professor Louw Claassens, have found a new species: a pygmy seahorse about the size of a grain of rice.
The finding shocked them because all seven species of pygmy seahorse, except for one in Japan, inhabit the Coral Triangle, a biodiverse region of more than two million square miles in the southwestern Pacific. This one lives 5,000 miles away, the first pygmy seahorse seen in all of the Indian Ocean and the continent of Africa.
"It's like finding a kangaroo in Norway," says Richard Smith, a marine biologist based in the United Kingdom and co-author of a new study on the species, known as the African or Sodwana Bay pygmy seahorse. The second name refers to the location where it was found, a popular scuba-diving spot close to the Mozambique border.
The new species looks somewhat similar to other pygmy seahorses, except that it has one set of spines on its back that have sharp, incisor-like points on the tips, says co-author Graham Short, an ichthyologist at the California Academy of Sciences and the Australian Museum in Sydney. In contrast, the other similar pygmy seahorses have flat-tipped spines.
"We really don't know what these spines are used for," Short says. "Many species of seahorses in general are spiny, so their presence could be possibly due to sexual selection—the females may prefer spinier males."
The surprising discovery, described in a study published May 19 in the journal ZooKeys, shows how little we know about the ocean, particularly when it comes to tiny creatures, the authors say—and that there are likely many more pygmy seahorse species to be identified.
"A gift from the sea"
Dive instructor Savannah Nalu Olivier first stumbled upon the creature in Sodwana Bay in 2017, while examining bits of algae on the seafloor. The bay is known for having many species of rare fish, sharks, and sea turtles.
She shared photographs of the fish with her colleagues, and in 2018 they made their way to Smith, who, with colleague and Research Associate of Zoology and Entomology at Rhodes University, Louw Claassens, collected several specimens of the animal at depths of 40 to 55 feet.
The researchers have named the new seahorse Hippocampus nalu, after Olivier, whose nickname is appropriately "Fish." (She's also a Pisces.) In the South African languages Xhosa and Zulu, "nalu" roughly translates to "here it is."
"I told her that this was a gift from the sea," says Louis Olivier, Savannah's father, who owns a scuba diving outfit called Pisces Diving Sodwana Bay. He adds he's "super stoked about her discovery."
Mysterious anatomy
Smith sent several specimens of the new species to Short, who analyzed their genetics and body structures using a CT scanner.
His research revealed that, like other pygmy seahorses, the newly found animal has two wing-like structures on its back, rather than one, as in larger seahorses. These "wings" in general serve an unknown purpose for seahorses.
Also like other pygmy seahorses, the African species has only one gill slit on its upper back, instead of two below each side of the head, like larger seahorses—another mystery.
That would be "like having a nose on the back of your neck," Short says.
But the new seahorse is unique from its tiny kin in that it was found living in turf-like algae, amid boulders and sand. Sodwana Bay has large swells, and the little seahorses appear to be comfortable being swept about, says Smith, who observed a pygmy seahorse get covered in sand and then wriggle its way out.
"They regularly get sand-blasted," says Smith, who wrote a book about sea creatures called The World Beneath. Other pygmy seahorses, which stick to the calmer waters around coral reefs, "are more dainty. But this [species] is built of sturdier stuff."
Like other pygmy seahorses, the African version is thought to eat tiny copepods and crustaceans. It also is well camouflaged to match its surroundings.
Many more to find
This finding "demonstrates that there are still many discoveries to be made in the oceans, even in shallow waters near the coast," says Thomas Trnski, head of natural sciences at the Auckland Museum in New Zealand, who wasn't involved in the study. Almost all pygmy seahorses have been discovered in just the last 20 years, he adds.
The only pygmy seahorse found outside the Coral Triangle is the Japanese pygmy seahorse, also known as the "Japan pig," first described in August 2018.
Although populations of regular seahorses have fallen in many areas because of harvesting for use in traditional Chinese medicine and the aquarium trade, that's not an issue for pygmy seahorses because they are difficult to find, Short says. That being said, some of these species have very low population densities, and there's not enough data to get a good sense of how many there are, Smith adds.
These fish can spread only very short distances via the current. The study suggests that Hippocampus nalu diverged from the ancestors of all known pygmy seahorses species more than 12 million years ago.
"This means that it is extremely likely that there are many more species of pygmy seahorses yet to be discovered in the western Indian Ocean" and beyond, Short says.
Source: https://www.nationalgeographic.com/animals/2020/05/new-pygmy-seahorse-species-discovered-africa/