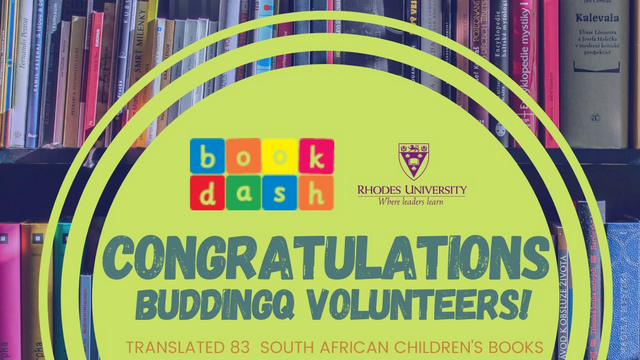 A group of Rhodes University Community Engagement student volunteers in the BuddingQ programme have been hard at work during the national lockdown period. They have translated over 85 books into five different official languages, IsiXhosa, Zulu, Afrikaans, Sepedi and Sesotho. The volunteers are working with the national non-profit organisation, Book Dash. The organisation's mission is to make sure every child in South Africa owns 100 books by the age of five. All content is created by volunteers, who craft a book from start to end over a 12-hour period. .
According to the Coordinator of the BuddingQ, Anna Talbot, the student volunteers saw the need to be involved in the initiative during the lockdown period in order to keep children at home stimulated with their mother tongue language books. "We have a literacy crisis in our country and 80% of children in Makhanda can't read for meaning by the time they are in grade three and this has a long term effect on their schooling. We want to take as many books as possible and translate them into languages our children speak," she explained. The books are available online and through the Book Dash App and requires no data to use.
BuddingQ student leader, Uthandile Samela, said she was excited to be part of the programme that seeks to empower young people with literacy at a very young age. She said the trick to get young people to read is to mix words and pictures in order to stimulate interest. "As a society, we always rush each other to be at the same level as everybody in terms of literacy. It should begin with a small step because interest in reading does not come overnight. We are visual people and I think by us gradually getting into reading, we can eventually paint our own mental pictures. Book Dash is very visual and some of the books contain more pictures than words, so you have to make your own story. By stimulating the imagination at a very young age, it makes it easier to create an understanding. Our youth should take things step-by-step. We have to be patient with one another and not give up on one another," she said.
Talbot encouraged parents at home to create a reading society where children are surrounded by books and parents read newspapers. "When children see this, reading becomes exciting and they see the purpose beyond getting information," she concluded.
The other Budding Q members are: Anelisa Mfenyana, Lwandile Ngcobo, Thembelani Chili, Anetta Sikhakhane, Khanyisa Ngquleka, Onika Dyantyi, Latita Nongogo, Mariline Ngubane, Koketso Maleka, Vuyolwethu Makamba, Asante Msimang, Hlela Dayimani, Lunathi Mangqunge, Thina Dumalisile and Lilitha Boco