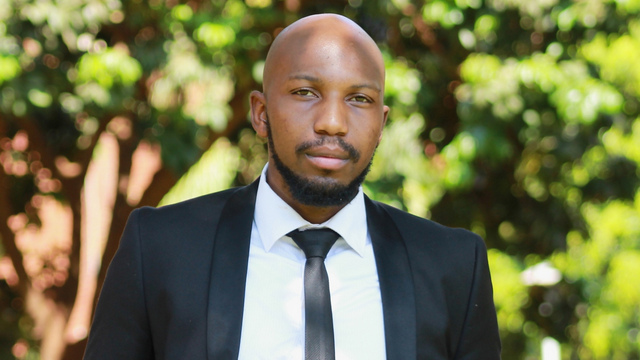 Two Rhodes University PhD candidates walked away with a first place tie in the national Three-Minute Thesis (3MT) competition last week. The competition, which is hosted by the University of Free State, provides a platform for PhD students to share their cutting-edge findings to an audience that has no background in their research area.
Rhodes University participated in the competition for the first time ever in 2020, which makes the win so much more exciting. Winners Takudzwa Comfort Madzivanzira and Blessing Mabate shared their research in just 180 seconds and with just one PowerPoint slide.
Takudzwa is a PhD candidate in the Department of Ichthyology and Fisheries Science and his presentation was titled: Alien species in Africa: A story of freshwater crayfish invasions.
Blessing is from the Department of Biochemistry, Microbiology and Biotechnology and his presentation was titled: Breaking the walls of diseases with seaweed.
Director of the Centre for Postgraduate Studies, Professor Sioux Mckenna, said when she heard there was a tie for first-place, she held her breath until the announcer said: "Newcomer Rhodes University has swept the board!" after which she shouted with joy.
Takudzwa and Blessing were chosen to represent Rhodes University from among the prize-winners in the institutional three minute competition held in lieu of the annual postgraduate conference. "Over 100 postgrads uploaded their entries to provide a wealth of magnificent insights into the range and depth of research being undertaken in the institution. Takudzwa and Blessing were selected to represent us because they both already had interesting findings to share from their PhD studies. They certainly made us proud," explained Prof McKenna.
Takudzwa's research demonstrates the ecological impact of alien crayfish in freshwater environments in Southern Africa. Blessing's research looks at using seaweed extracts as medication for cancer, diabetes and possibly even viruses such as COVID-19.
Blessing said he was very nervous on the day of the presentation. "Waiting for the results was the worst, as we waited longer than anticipated. After my name wasn't announced as second place, I thought it was over. But to my surprise, my name was called together with Takudzwa as winners in a tie position. I was in total shock and so happy that both of us got something out of our effort. Funnily enough, Takudzwa and I are friends and volleyball mates as well. Who would have thought? Such a coincidence," said Blessing.
Prof McKenna said: "Translating research into non-specialist language is no simple task. There is a need to be true to science while making an engaging presentation that is accessible to all. This process allows for a broader dissemination of research which is particularly important in an era of anti-intellectualism and a cynicism about the value of science and challenges being brought to bear on the purpose of the university. This may have been the first time we participated in the competition, but I do not think this will be the last."
Blessing gave credit to his supervisors, Professor Brett Pletschke and Professor Adrienne Edkins and his colleagues for the award. "The recognition from the University has made me a proud Rhodent and has motivated me to work harder and take our institution to greater heights," he concluded. Takudzwa also recognised the outstanding leadership and mentoring by his supervisors, Professor Olaf Weyl and Dr Josie South.
The prize-winners walked away with R15 000 each, which will help them as they continue with their valuable research.