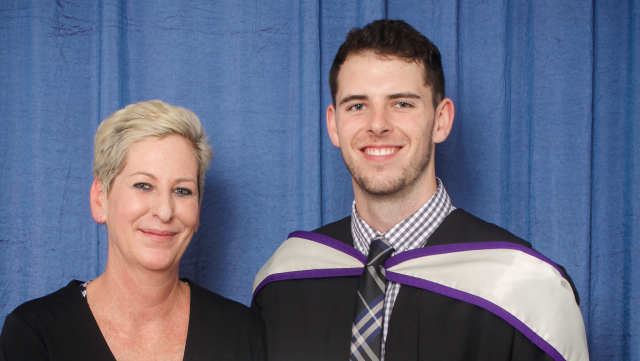 The legacy of late Rhodes University Senior Alumni Relations Officer, Terryl Mc Carthy, lives on in a student bursary lovingly established by her family.
Terryl passed away suddenly in November 2019, and nearly a year later, her legacy will be carried through in the form of a pay-it-forward bursary for needy students. The first bursary recipient will be selected in 2021.
Her son, Ryan Mc Carthy, who is currently in his first year of Masters in Human Kinetics and Ergonomics (HKE) at Rhodes University, is the family spokesperson for the bursary.
On being her child, Ryan recalled: "My mother's blood was purple. She even had her own "Rhodes rat" (mascot/alumni symbol). Her designs of the infamous "alumni rats" were based on my cartoon drawings in Grade 8. Her work was always a part of our home, and I'm not sure she ever understood the concept of overtime being optional."
According to Ryan, the main aim of the bursary is to allow students to enjoy their studies without financial pressure. "My mother was very passionate about helping others in need and motivated by ensuring that every student at the University had a positive experience. She believed that for young people to be able to study and work hard, they also needed opportunities to make friends and to afford simple pleasures. She found that, although many students had bursaries, they lacked funding for housing or basic needs such as toiletries," he said.
The Terryl Mc Carthy Bursary Fund aims to ensure its beneficiaries have holistic funding so that their experience at the University can develop them into empowered individuals, who will feel inclined to help others in turn.
The Mc Carthy family, comprised of her children Ryan and Tayla and her husband, Kevin, have provided the initial capital for the bursary. Throughout her many years at the University, Terryl spearheaded and reinvented many student funding initiatives, most of which are still in operation today. These include give5, Purple Thursdays, the Pocket Money Fund, and various toiletry drives.
One of her many exemplary initiatives was setting up and hosting a Firewalk, as part of the give5 campaign. She said: "Walking on hot coals is symbolic of the giving spirit at Rhodes University. It is about being uncomfortable. It brings awareness that there are many students who feel like this [uncomfortable] every day of their lives, and it puts you in their shoes – in that mindset."
Ryan remembers how, in 2012, Terryl and her colleagues attended the intervarsity great field party in purple overalls to watch Jack Parrow perform. "And during the student protests, my mother gave students lifts to the police station to check on their friends and fellow students," he said.
Although Terryl's work often required her to interact with high-profile individuals such as Helen Zille, John Smit and Thuli Madonsela, these meetings were easily overshadowed by her excitement at seeing a Rhodent sticker on someone's car or her joyful retellings of the long chats she had with students about their time at Rhodes University. "Helping students was a constant highlight of my mother's life," Ryan fondly recalls.
Thabo Seshoka, who was one of the many students who were inspired by Terryl, is one of the first contributors to the fund. Thabo graduated with a Bachelor of Social Science and a Bachelor of Social Science (Honours) in Anthropology at Rhodes University in 2014 and currently works as the Head of Heritage and Research at Robben Island Museum and as a Guest Lecturer at Rhodes University.
"By donating to this fund, I feel I am preserving the legacy of an amazing individual. Since Terryl always selflessly availed herself to assist students, I believe she would be happy that a fund has been established in her honour," Thabo said. "Terryl deeply cared for all the students and alumni of Rhodes University, and took a personal interest in the success of students – something I can attest to."
The beneficiary criteria for the Terryl Mc Carthy Bursary Fund includes a proven contribution to the community and postgraduates in Pharmacy, Science and Education. Applications to be invited annually by the Postgraduate Student Funding Office, who will also handle the selection.
Anyone interested in contributing to Terryl's legacy fund can contact Development Fundraiser for Campaigns, Luyanda Bheyile on 046 603 8516 or email l.bheyile@ru.ac.za.