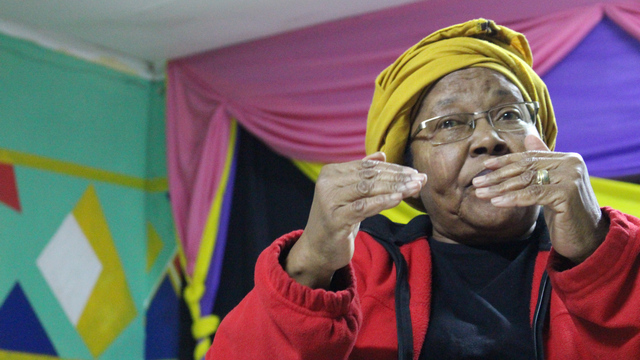 By Unathi Balele, 4th-year Journalism & Media Studies student
The etymology of a word goes a long way in teaching us the history, the routes and the roots of a word as expressed at a joint Rhodes University and Makhanda Black Kollective (MBK) community seminar entitled 'Ukuhlambulula from an anti-humane world' in Fingo Village, Makhanda.
The seminar series, hosted by the School of Journalism & Media Studies, 'Southern Epistemologies Thinking Beyond the Abyss for a Transformative Curriculum', took place at the Makhanda-based Pan-Africanist oriented school, Isikolo sama-Afrika (African School of Thought). The seminar created a space to touch the intangible: African histories and untold identities. Isikolo sama-Afrika also provided a safe space for curricular and pedagogy discussions from a Pan-Africanist and Black Consciousness perspective.
Isikolo sama-Afrika forms part of the MBK initiative, which is an interdisciplinary and intergenerational project consisting of artists, social justice and environmental activists, parents and students from and around Makhanda, Eastern Cape. Established in May 2018, the MBK mobilises and organises Pan-Africanist and Black Consciousness educational programmes predominately in Makhanda, specifically for those who live in Hlalani location. Their mission is to grapple with the concept of what it means to be "free" in the post-1994 democratic dispensation.
The seminar was conducted mainly in isiXhosa. "This shows the importance of the message we are getting across and shows the importance of the language," said Sanele Ntshingana, a Rhodes University PhD candidate at the School of Languages, who is also a teacher at Isikolo sama-Afrika.
Isikolo sama-Afrika is concerned with identity – to ensure that the children from Makhanda know themselves on a deeper level. It also seeks to give students a sense of self-awareness and self-realisation. "It is shocking that 300 years later, many people in our area do not know about their heritage and histories," Ntshingana added. The school also serves to give the students a social conscience, and a political and social context of who they are and where they come from.
A few students of Isikolo sama-Afrika shared their experiences and the different things they have learned from the school. They agreed that Isikolo sama-Afrika has taught them many things that are not written in books or taught in other schools, such as their history and identity. "Ndifunde uba asoze uzazi uba ungubani uba awuzazi uba usukaph," said Iyakwa, one of the learners.
"Mna ndithande imfundo zobu Afrika," expressed another learner, Siyakonwaba.
Isikolo sama-Afrika is tailored to the specific context of Makhanda and it collaborates with similar movements and organisations engaged in the struggle. Through this solidarity, they are able to share knowledge and experience, as well as draw insights.
Historian and Rhodes University alumna, Dr Nomathamsanqa Tisani, ended the seminar by saying "You are your own liberator and we are in charge of creating our own world".