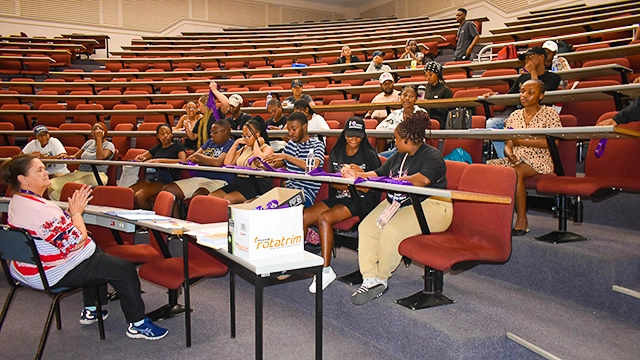 By Cebokazi Duze
The Student Bureau at Rhodes University is not only the first point of contact for new students, but their involvement in the graduation ceremonies means that they get the chance to see a student's academic journeys right to their brilliant end.
The Student Bureau, which falls under the Registrar's Division, is responsible for undergraduate funding, student records and administration, registration, data processing – and graduation.
The Student Bureau consists of three sections, which are all actively involved with the graduation arrangements. Graduation preparations start immediately after student registration closes at the start of the year.
The Data Processing Unit, under the supervision of Ms Rochelle Sias, is responsible for collating graduation replies, and issuing graduation tickets.
Ms Adri Saayman, who is responsible for the employment and management of the graduation ushers, said about forty ushers are employed a month before graduation so that they know their schedule and when they will be expected to be in Makhanda.
Ms Thami Matiwane and her Student Funding team are involved in developing the Graduation Prize booklet.
In the week of graduation, the Student Bureau relocates from its Eden Grove offices to the graduation venue, where they do rehearsals, checks, and set up venues. In the whole Division, every staff member participates in graduation, either at the graduation venue or from Eden Grove.
The main challenges faced during this time include slow replies from the graduands, as the demand for extra tickets. Available space is limited, so they try to ensure that everyone has a fair chance with tickets, said Ms Desiree Wicks, Manager of the Student Bureau.
Additionally, day-to-day work is put on pause as Student Bureau staff are focused on Graduation for the week of Graduation, with some being on their feet for eight hours at a time.
There is not a member of the Student Bureau staff who does not fully contribute to graduation. It takes effective communication, team meetings, committed teamwork, and keeping each other up to date to pull off such a successful event.
What motivates the section during this busy time is that they get to see students complete their full academic cycle. From assisting with student funding, admissions, and residence allocation, it is fulfilling for Student Bureau staff to see students walk across the stage, full of excitement and appreciation, and to have loved ones make the time to thank them for their role.
"You cannot really put that sense of pride and joy into words," said Ms Wicks. "It really is a privilege to be part of this event, and it's so amazing to get positive feedback."