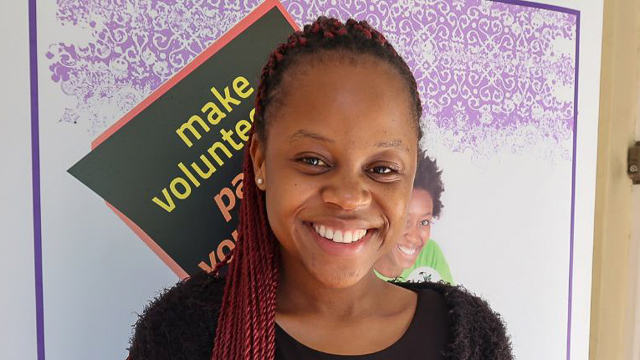 The Rhodes University Community Engagement Awards saw several inspiring individuals and groups rightfully honoured for their selfless contributions to creating a better society for all.
The annual event celebrates the hard work of all the winners and finalists, and everyone involved in community engagement through its many forms - volunteering, service-learning and engaged research.
Community Engagement Awards Winners:
Student of the Year - Melody Chauke
Melody has been a steady member of the RUCE family since her first year at Rhodes University. She joined BuddingQ in her first year and quickly rose to leadership ranks. In her second year she was a student leader in BuddingQ and ECP as well as a CE Rep on the Rosa Parks House Committee and two different Societies. In all of these positions she did not shy away from a challenge. In BuddingQ she led our largest group of volunteers, in one of our most demanding schools (with over 90 Grade R children per session). In ECP she worked respectfully and diligently with children with disabilities and as a house CE Rep she created an engaged and consistent community of active student volunteers. This year, despite many personal hardships she maintained her commitment to leadership and community engagement leading another BuddingQ & ECP group, becoming a 9/10ths mentor and establishing a CE project for another society, ABSIP.

Melody has an infectious energy for Community Engagement and life that manifests in her living. Her ability to rise above challenge to connect people, create belonging and effect meaningful social change is admirable.
Student Researcher of the Year - Nigel Machiha
This winner has grown in leaps and bounds through his community engagement journey as a volunteer, student leader and now researcher. It was his volunteer experiences that sparked his interest in researching decoloniality and epistemic justice. In recognition of this he launched his research journey in 2021 as one of the first members in the 9/10ths research group with the topic 'Epistemological Access: The potential and limitations of the 9/10ths program as a vehicle for the decolonization of higher education in Makhanda '. Since then, he has embarked on a Master of Political and International Studies which is firmly rooted and focussed on the topic of making universities relevant and accessible to their communities. As a research participant, volunteer or researcher he brings valuable insights and wisdom to his own and others work; demonstrating the experience and process of the intricate and multi-faceted process of engaged research.

In making his work accessible he has presented at the RU/DUT symposium in 2021 and was selected as a delegate to present at the Tailloiries Network Conference in Bloemfontein last year. This year he shared insights at the RUCE imbizo and has been a member of a multidisciplinary team of Masters Students who participated in the 2022 Advancing Development Goals International Contest for Graduate Students (Geneva Challenge) hosted by the Geneva Graduate Institute. The competition required students to present innovative and pragmatic solutions to address the challenges of poverty reduction. The RUCE team, presented a proposal, drawing inspiration from evidence-based knowledge in BuddingQ for a 'glocal systems approach to impactful ECD' in the project, impactx. The team was finalist in this global competition.
Community Partner of the Year - Khanya Science and Mathematics
The Khanya Maths and Science Club involves the tutoring of Maths and Science to Grade 8 and 9 learners. The Club celebrated its 22nd birthday this year and was established by Mrs. Joyce Sewry in 2000. In partnership with GADRA Education, Rhodes University staff members and student volunteers (tutors) within the Science Faculty, the Club aims to cultivate interest in Mathematics and Science. The COVID-19 pandemic has wreaked havoc on learners educational achievement. Yet the Club was proactive in all its engagements with the learners and prepared learning resources to support learners as well as doing Maths tutoring remotely (via WhatsApp and Moya App) in 2021. This year, the number of learners who joined the programme doubled from 40 in 2021, to 80 in 2022. This Club truly embodies the transformative and development community engagement and values and has shown that through the love of science, community-university partnerships can collaboratively and collectively contribute to the development of maths and science abilities of learners in Makhanda.
Society or Sport of the Year - Rhodes University Mountain Club
The Mountain Club is deeply entrenched in being relevant and engaged with local communities. They have been winners of this award three times previously and so to receive this award another time requires exemplary community engagement understanding and practice.

This year the Club formed a new partnership with the Eluxolweni Place of Safety for Boys. Negotiating a mutually-beneficial and sustainable partnership from scratch is no small feat. The navigated this independently as a whole committee – each stakeholder bring their piece to the table. During the year they had huge successes in introducing the boys to outdoor activities such as camping, slack lining and climbing to address the developmental and psychosocial support needs of the boys. Through these activities and mentorship relationships, they have managed to develop a reciprocal relationship with the social workers and the boys, and these engagements will no doubt have a profound impact on the boys' lives. This Club has truly shown how the collective power of students to collaborate and work closely with the community around community-identified challenges can make a meaningful impact on community university partnerships.
Hall or Res of the Year - Oppidan Hall
Given its size, creating awareness and getting students to attend Community Engagement activities has been a significant challenge for the Hall in the past. However, this year the Community Engagement Rep (Siviwe Gaika) and Volunteer Manager (Noluthando Shelle) were able to mobilise volunteers consistently throughout the year- from a vibrant O-week to a final volunteer session this semester. This year the Oppidans worked developmentally, taking their mandate from the stakeholders who benefit from the CSD Toy Library and used their vast human capital to realise the goals that emerged.

They facilitated a rich experience for first year students through the Community Engagement Orientation short course which was presented for the first time as part of the extend orientation programme, in partnership with the DSA. Managed to initiate a clean up of the Traffic play area at the Joza Youth Hub after which people appointed by the
ward councillor and community members continue to maintain the area. Students also co-hosted the CSD Toy Library stall at the Joza Youth Hub's Open day, held a book drive and went on to facilitate weekly literacy and play session for young children at the CSD Toy Library in Joza. Most inspiring however, is the integration of the community partner into hall life through various hall committee meetings and events.

All winners and finalists can be found here.