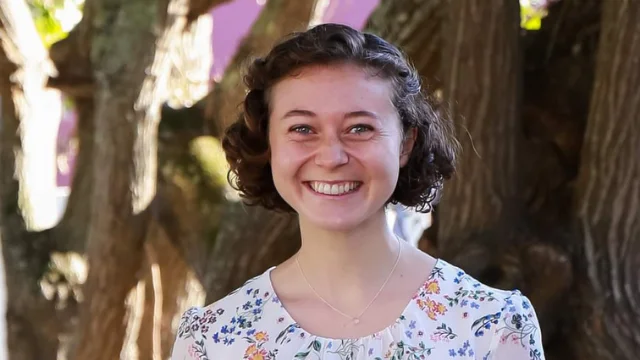 By Sam van Heerden
Rhodes University's Community Engagement (RUCE) division plays a significant role in the wider Makhanda through its various projects. But lesser known is the long-lasting impact it has on its volunteers. To launch RUCE's Community Engagement Week for 2022, previous Student Volunteer of the Year Award winners took part in a panel discussion. Looking back on their volunteering experience, they reflected on how it has contributed to their personal and career development.
"I am a more responsible citizen thanks to community engagement," said Student Volunteer of The Year awardee of 2017, Sanele Ngubo. "It helped me to understand that I am not on my own. That I exist within a society where my contribution is directly attributed to my connection to the society as well."
Student Volunteer Awardee of 2020, Claire McCann, agreed: "So much of our education takes place beyond the classroom," she explained. McCann was inspired by the innovations and interventions of community partners such as GADRA Matric School, Makhanda's leading educational NGO. Once one of the worst-performing districts, Makhanda's matric pass rates have steadily soared with the help of GADRA. "My relationships within community engagement provided a space of hope for me and a space for us to re-imagine what we wanted Makhanda and the rest of South Africa to look like," she said.
It can take time to find the courage to act and change things. One becomes a leader through learning, and the panel reflected on how volunteering provides plenty of opportunities for this. "After I got my first leadership role [as a student volunteer leader], I became open to becoming someone who could get things done," said 2018 awardee Sesona Yedwa. "It instilled a sense of confidence."
But the former volunteers have also learnt that leadership requires teamwork. Many awardees noted the indispensable value of working under the mentorship of RUCE staff members and partner sites, through which they observed first-hand the qualities of ethical leadership. "I learnt that leadership is not about me," explained Ngubo. "What is important is how one can serve and work with the community. People usually know what should be done or what they want to do; they just lack confidence. Leadership is about listening to understand."
RUCE also provides a space for volunteers to make mistakes and grow. "When I first heard about community engagement, I thought it was like charity work," professed 2021 awardee Luyanda Hadebe, who was a part of the annual Extended Orientation Programme that introduced first years to community engagement. "But we learnt that community engagement is about working together with the community."
Hadebe's volunteering experience not only shifted her view on what community engagement is about but propelled her to change her career path from business to education.
Reflection is continually encouraged as a part of RUCE's volunteering programme. "I learnt that being a leader does not mean you need to know everything," explained 2019 awardee Mandilakhe Valela. He suggested that ethical leadership is something that volunteers carry with them into the working world. "You know that whatever you do professionally, it does not remove the fact that you are a part of the community," he said.
From leadership and teamwork skills to communication, the panellists agreed that they fostered many employable qualities through community engagement. "In addition to general organisation and planning, communication was something I developed through community engagement," explained another 2019 awardee, Sam Ncula. "I was a part of 9/10ths project, and we had to have regular communication with our mentees. This was one of the most important factors that I brought into the working space."
Given that community engagement nurtures such vital ethical and professional qualities, RUCE Co-ordinator Anna Talbot asked the panel what universities can do to foster these relevant graduate attributes better. "Universities need to gear students' interests to look outside themselves," explained Ngubo. One idea was to embed community engagement into the curriculum early in a student's career through service-learning. This involves applying what is learnt in the classroom to the broader community setting so that students can think about the impact and uses of their knowledge.
"All departments can use service-learning as a point of reflection. We can learn a lot from community voices, and it is important to recognise that value," said McCann. Valela added that this can help to encourage young people to become 'students of life.'
Today's world is rife with challenges for graduates, from youth unemployment to economic and political instability on both the local and global stages. The panel discussion demonstrated that community engagement helps to foster responsible citizens and principled leaders equipped with the confidence, self-reflection, and skills to make a mark in their professions and the wider community.