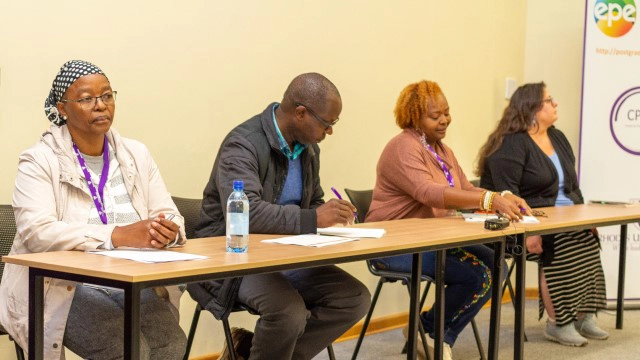 By Poelo Irene Keta
On 01 September 2022, the annual Rhodes Postgraduate Conference kicked off with a discussion on how we can ensure that knowledge created in higher education institutions crosses borders and is utilised to address the needs of the people and the planet.
The conference took place in what is now a post-COVID reality and explored ways in which knowledge created through research could be shared to penetrate the various borders that might prevent dissemination, some of which were exacerbated by the unprecedented conditions caused by the pandemic.
Chaired by Ms Asiphe Mxalisa from the Centre for Postgraduate Studies (CPGS) at Rhodes University, the two-day conference was well attended by students, lecturers, and local and international guests. Sitting on the panel for the opening discussion were Dr Mamotena Mpeta (University of Venda), Professor Patrick Onyango (Maseno University, Kenya), Professor LaWanda Ward (Pennsylvania State University, USA), and Dr Jan McArthur (Lancaster University, UK). Also in attendance was Rhodes University Vice-Chancellor, Professor Sizwe Mabizela, who gave the opening remarks and welcome. "You are the next generation of researchers, the next generation of scholars, the next generation of professionals. Help us achieve sustainable development and inclusive prosperity. Humanity looks up to you for new ideas and perspectives on challenges facing humanity."
The international panel led an interactive discussion on the responsibilities of postgraduates and other researchers to people and the planet and how we prevent the gatekeeping of knowledge to ensure it is transformative. "I want to promote the idea of kindness as a boundary crosser. Kindness is a strong, difficult, and defiant idea in a world that is unkind," Dr McArthur opened. "The boundary begins in our departments, in our conversations – that's the first boundary. To be kind in an academic sense is to argue, but also to listen; it is to believe passionately and to speak out," she said.
Drawing from her experiences as a black woman in the US context, Professor Ward shared her experiences with borders and how the notion of 'crossing' was familiar to her. "When I think about knowledge, the question 'Whose knowledge?' comes to mind. Who has had the opportunity to contribute to what we know as knowledge? Seeing everyone as an equal contributor to what we're going to create and consider to be knowledge is important," Prof Ward said.
Many postgraduate students spoke up about their encounters with borders and how they have seen opportunities for their research to cross borders and address many issues facing people and the planet today. Nobuhle Mpanza, a PhD student in the Department of Ichthyology and Fisheries Science, who shared her research on "The Use of Eco-Engineering and Indigenous Cultural innovations to Improve the Value of Coastal Habitats", indicated how important the conference was in helping her realise the far-reaching impact of her research. "As a scientist, it means that the science I do in South Africa doesn't need to be bound to South Africa. When I was working with invasive species, I travelled abroad and realised that they have the same issues as we do in South Africa. They might not necessarily have the same invasive species that we do, but they have similar issues that are affecting the environment, which means my research and my methods can be used globally," she said.
As many of the students prepared for their respective presentations, they could not help but feel renewed hope and encouragement for their research. "For me, this conference has come at an opportune time because it coincides with my presentation entitled "Transboundary Fisheries Management in Kavango-Zambezi Transfrontier-Conservation Area". We are already trying to get the knowledge across the region," Sunday Imikendu Imbwae, a postgraduate student in the Department of Ichthyology and Fisheries Science, said.
The conference continued to its second day on 02 September with the topic of "The Power of Multiple Languages."
Source: Communications