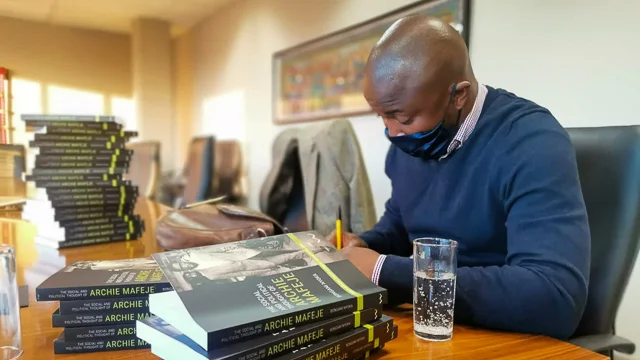 By Tandokazi Silosini, MA candidate in Political and International Studies
This year's graduation was bursting with accolades and festivities as Rhodes University held sit-down ceremonies on campus for the first time in two years. Among the honours was the conferral of the Vice-Chancellor's Book Award to Political and International Studies Lecturer, Dr Bongani Nyoka.
This award was established to recognise the publication of books that bring credit to the University. The Vice-Chancellor's Book Award Committee considers any text (including monographs, textbooks, novels, collections and popularisations) nominated by members of the University or applied for by the author(s) which has 1) been written or edited by a current member of staff at Rhodes University, or a student, postdoctoral fellow, or an author formally affiliated with the University at the time of writing the book and 2) is considered to bring credit to the University because of the contribution it makes to scholarly literature, education, science or arts, and 3) has been published in the preceding four years.
This year the Deputy Vice-Chancellor: Research and Innovation, Professor Peter Clayton, presented the award to Dr Nyoka for his book, The Social and Political Thought of Archie Mafeje; A Pan-African social scientist ahead of his time. Dr Nyoka is a lecturer in the Department of Political and International Studies at Rhodes University and a Senior Research fellow at the Johannesburg Institute for Advanced Study, University of Johannesburg.
Indeed, Dr Nyoka's work is an excellent engagement with the intellectual life of the great South African thinker and activist Archie Mafeje.
Renowned Sociologist and DSI/NRF SARChI Chair in Social Policy Professor Jimi Adesina praised Dr Nyoka's work as a significant contribution to scholarship and the African archive. In his review of the book, he comments, "At a time when 'decolonisation' of knowledge is stranded at the level of protest scholarship, Nyoka's scholarly interrogation of Mafeje's oeuvre is a welcome departure".