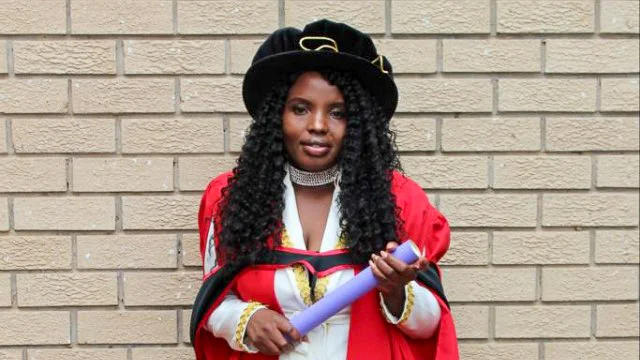 By Simnikiwe Kuali
Despite the challenges that come with two young children and funding constraints, six years after embarking on her PhD journey, Pindiwe Ntloko can now proudly put the title 'Dr' before her name.
Dr Pindiwe Ntloko (32) was born in Ngcobo, located in a village called Ngqutura in the Eastern Cape. Pindiwe attended Mqonci Primary Junior School and Cwele Public Junior Secondary School and matriculated from St James Senior Secondary School in 2008.
After obtaining her Bachelor of Science majoring in Biochemistry and Microbiology at the University of Fort Hare in 2009, she did her honours in Biochemistry and Microbiology in 2011. She also did her Masters in Microbiology at the University of Fort Hare.
In 2014 and 2015, she worked as a facilitator in KwaZulu-Natal. It was a difficult time for Pindiwe as her mother passed away around this time.
Then a phone call from her friend, Dr Bukho Gusha, changed the course of her career and revitalised her academic journey.
"My friend called me to tell me there's a supervisor at Rhodes University looking for a student to run a project. So, I asked her to tell me more. That is when she introduced me to Prof Nelson Oghenekaro Odume. The project was based on Water Resource Sciences at the Institute of Water Research (IWR)."
Towards the end of 2015, Pindiwe applied for a funding through National Research Funding (NRF) and she received the award beginning 2016, for a full three years. So, in 2016, Pindiwe began her PhD journey at Rhodes University
"I wasn't sure if I was doing the right thing. At the time, my daughter was only two months old," she explained. "And with my mother having passed on, I didn't have that maternal support."
Pindiwe had to move to Makhanda with her child to complete her studies. She recalled the hardship it was having to travel with a young child. "Everything about my decision to further my studies pulled me out of my comfort zone. It was far from easy, and it took me longer than expected to complete my degree. But eventually, I did it," she said.
Pindiwe recalled all the times she came close to quitting. After her funding ended, she had to develop a way to sustain herself and her child.
Her supervisor Prof Odume and co-supervisor Prof Tally Palmer, who believed in her, offered to help her financially to reach her goal. Her father and siblings also contributed. She also received amazing support from her church and friends.
"Sometimes, when you are in a corner, if you cry alone in that corner, no one can help you. So, even though it was difficult, I had to reach out to people and ask for help," she said.
During the COVID-19 lockdown in 2020, Pindiwe discovered she was pregnant again and gave birth that November. Her partner, Mpho Moeketsi Khitsane, continued to support her throughout, which also helped her keep going. "There is one thought that kept me going. I would tell myself: 'You came to Rhodes University because you wanted to do your PhD, and you can't turn around now and say these challenges are defeating you. Other people are overcoming great obstacles - why can't you be one of them?"
Since April's graduation, Pindiwe can now proudly put the title of 'Dr' in front of her name. And each time she does, it is a reminder of her resilience.
Earlier this year, Pindiwe received a postdoctoral position in a Professional Development Programme (PDP). The PDP is fully funded by NRF for a period of three years. She is currently a postdoc fellow at Albany Museum, an entity affiliated with Rhodes University. The PDP became a success through Mr Musa Mlambo, who is a production scientist. Mr Mlambo is her current supervisor. "I am grateful to God for answering my prayers. This period serves as a great platform to expand my research skills as well as make my mark in the field of freshwater research," she said.
To other young mothers and young women in general, she imparts the following words of wisdom:
"As a person, you must own your project; no one else can own it for you. No one will push you; you must do it yourself. Furthermore, we need to be humble as human beings. We mustn't classify to say that 'this one is doing art; this one is doing science. I'm better off. No. Everyone's journey means something."