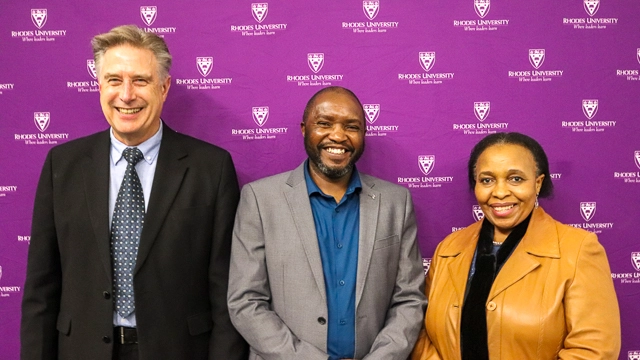 By Denzel Nyathi
On 13 September 2022, colleagues, Heads of Departments, Deans and students alike gathered in Eden Grove Blue to honour Professor Philani Mashazi's 2021 VC's Distinguished Research Award. Professor Mashazi of the Rhodes University Chemistry Department received recognition for his significant research strides within his field.
As part of receiving this award, Professor Mashazi presented a lecture on his research towards innovating easy-to-operate and affordable diagnostic systems. This was motivated mainly by a desire to better understand diabetes, which his father, Inspector Sipho Andreas Mashazi, lived with. "I need to give thanks to the man who shaped my life in ways I cannot even imagine," Professor Mashazi credited his late father. His father sadly died in August of 2020 due to contracting COVID-19, which was further complicated by his pre-existing diabetes diagnosis.
Therefore, it is no surprise that his research has focused on how better technologies can be created to detect and diagnose both communicable and non-communicable diseases. These technologies would work as biosensors and look for chemicals and biological markers released by the body as indicators of an early occurrence or onset of a disease. The biological indicators are the body's fighting mechanism against a disease in the body and produced by the body in abundance. So their presence in the bodily fluids is a strong indicator of a presence of a particular disease.
Professor Mashazi relates this problem to cancer. By the time conventional screening techniques can detect the body's attempts to attack cancer cells, the cells will already have had the chance to move to other parts of the body, therefore requiring a long-term fight against the disease.
Therefore, the research is likened to searching for a 'needle in a haystack' since the goal is to identify minute biological indicators in the body. The specifics of the research also looked at elevated concentrations of biological indicators of prostate cancer using personal glucose meters for signal production and diagnosis.
Through the specific chemicals, biomarkers and drugs he and his research team used for screening, there were considerable improvements in the precision of detection.
Professor Mashazi acknowledges and celebrates the bilateral nature of the research, having brought together Rhodes University and Umeå University. He also thanked the Institute of Nanotechnology Innovation for access to a suite of state-of-the-art equipment allowing for the impactful research as a 'one-stop-shop' facility for (nano)material analysis. Finally, he thanked the invaluable contribution of students, both past and present, who provided research reports and material for the presentation.