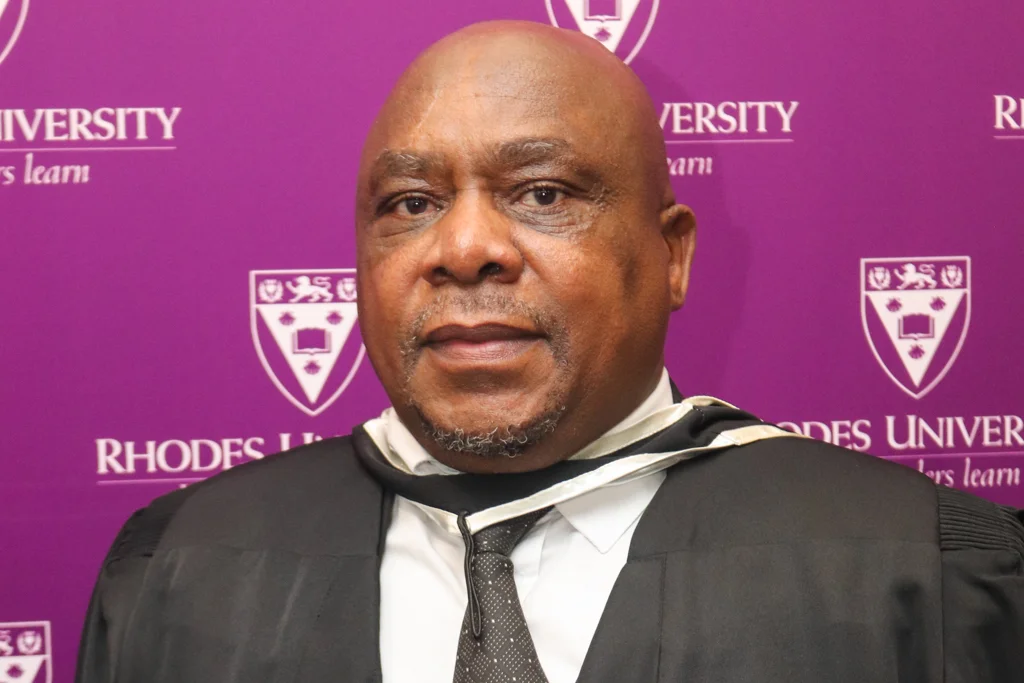 By Sivenathi Gosa - Daily Dispatch
After giving up his high school career and joining the struggle, former Umkhonto we Sizwe (MK) underground operative Mzimasi Hala found the courage to complete his studies and acquire his master's degree in history.
Hala, 63, was awarded his degree on Friday, at the same Rhodes University graduation ceremony where high commissioner to Namibia Thenjiwe Mtintso received an honorary doctorate for her contribution as a freedom fighter and gender activist.
"This was an emotional moment for me," Hala said.
"I cried on the day I was informed I had made it. My wife was the first graduate in our family, and my children followed, so it is an honour for me to be a graduate as well."
Hala's master's thesis documents his experiences and those of other veterans in the ANC's military wing.
The director of security at the department of health shared his journey on how he went back to school to complete his studies after joining the struggle.
"When I joined the struggle, I knew that it is either I will survive or I will die," he said.
"That was the choice made by the ANC in exile. The first question you were asked was if you wanted to go to school or join the army.
"We all decided to join the army due to the conditions under which we lived in SA.
"I am happy that I have made it, though there are some sad memories, as some of my comrades who I fought with during the apartheid era are no longer here.
"I dedicate this master's degree to those I serve with in Umkhonto we Sizwe."
Hala said he had been led by Mtintso during the struggle, as she was one of the MK commanders in his unit.
"We were not afraid to be led by women in Umkhonto we Sizwe," he said.
"I am very glad that the university has decided to honour her."
Hala believes SA is ready to be led by women who are capable of making decisions and leading the country.
"The national ANC conference is approaching in December, and the slates circulating do not have many women as presidential candidates — it is always men. But I am sure in the near future, the ANC will have a female president," he said.
Hala joined the struggle in 1978 and was in the ranks of Umkhonto we Sizwe in 1981.
"The person whom I salute today is premier Oscar Mabuyane, who encouraged me to enrol in university. He pushed and made sure that I achieved my dream," he said.
Speaking at the graduation ceremony, vice-chancellor Prof Sizwe Mabizela said as the graduates moved on, they should never cease to appreciate the value of learning, the significance of knowledge, the strength of ideas, the merit of asking questions, the usefulness of theory, the need for reason and evidence, the power of logic and the benefits that come from clear thinking and thoughtful argument.
"We are now living through very challenging times," Mabizela said.
"They are graduating at a time of deep uncertainty and anxiety. Our nation is at a crossroads in every conceivable sense — politically, economically, socially, morally and ethically.
"We are in the midst of the worst crises in our 28 years of a democratic dispensation. All about us, we see pervasive and debilitating poverty and deprivation existing alongside obscene and unbridled opulence and vulgar and ostentatious display of ill-gotten material wealth."
He said corruption, greed, nepotism, deceit, impunity, malfeasance and lawlessness had spiralled out of control and been normalised as an acceptable form of life.
Mabizela wished the graduates success, happiness, discernment and fulfilment in the years ahead.
DispatchLIVE