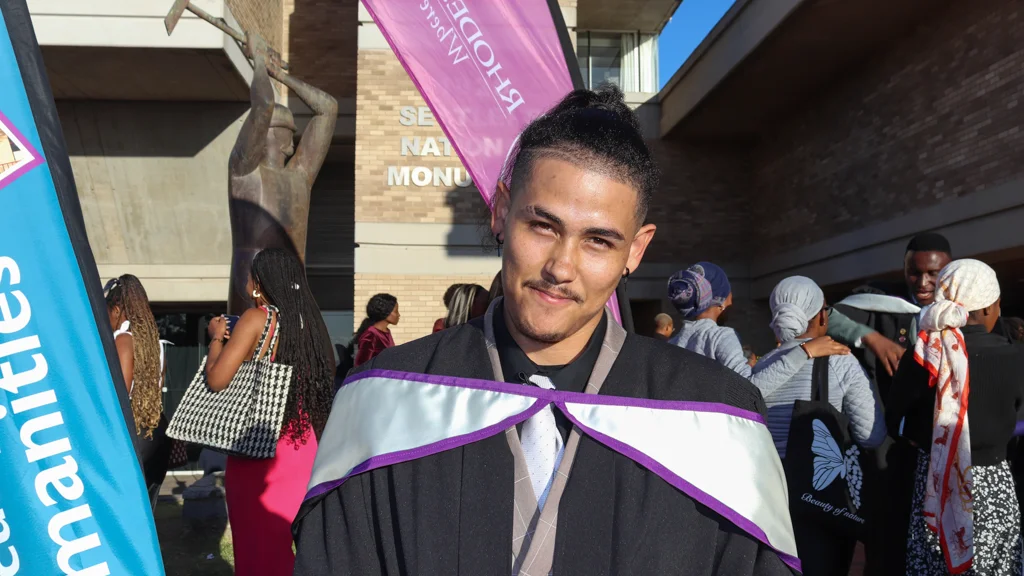 By Tanya Sylvia Mugwagwa
The GADRA Matric School, alongside Rhodes University, celebrated the graduation of Junaid Denston, a former GADRA student, during the 2023 graduation season.
Junaid attended Mary Waters High, where he matriculated with a Diploma pass in 2017. He then began attending the GADRA Matric School in 2018.
After his significant progress during his year at GADRA, Junaid was accepted into Rhodes University's Bachelor of Arts extended studies program in 2019. He majored in drama, journalism, and anthropology and completed his BA degree in 2022
Communications and Marketing's Tanya conducted the following interview with Junaid:
[Mugwagwa]: How did GADRA help you reach your dreams?
[Denston]: GADRA helped me reach my dreams of accessing higher education and attaining a degree by simply being patient with me as a student. It was not an easy journey, but I persevered through their support and patience.
In my matric year, I struggled with maths literacy, and geography. I did not manage to get satisfactory grades in those two subjects. Luckily, Dr Ashley Westaway was at Mary Waters the very day we received our results, and I was able to speak to him.
I remember he distinctly asked me, "why didn't you get a bachelor's," as I had only passed with a diploma. After assessing my marks, he encouraged me to apply to GADRA and assured me there was no way they would decline my application. To my greatest pleasure, I was accepted to GADRA, and I picked English as my third subject.
When I enrolled at GADRA, things were financially challenging for my family at home, and I spoke to Dr Westaway about potentially entering into a payment plan for my fees. One day, as I was preparing to inform him of the arrangement my mother and I had come up with, Dr Westaway called me into his office to inform me that he had found an individual who was willing to sponsor my fees. So not only did Gadra assist me educationally, but they were able to help me access financial resources that would help me reach my goals.
Ultimately, Gadra's passion and dedication to my education ensured that I could upgrade in all three subjects.
[Mugwagwa]: How do you feel about the fact that you are now an alumnus of Rhodes University?
[Denston]: My graduation from Rhodes University feels like a huge milestone. I feel incredibly privileged for the opportunity to study at Rhodes University, which would not have happened had it not been for GADRA. I am aware that not everyone gets the opportunity or is able to attend university, so beyond being incredibly proud of myself, I am forever grateful to GADRA."
[Mugwagwa]: What do you plan to do now that you are officially a graduate?
[Denston]: I am currently enrolled for a joint honours degree in Drama and Anthropology at Rhodes University. My goal is to become an actor. I would love to get into the film industry as I also got the opportunity to study Journalism and Media Studies in my undergraduate degree. I am all about the arts and love the idea of telling people's stories through performance.
[Mugwagwa]: What are some inspiring words for other struggling students?
[Denston]: To other students who are struggling, I would like to say: Do not give up; two, maintain your focus. Whatever it is you're studying, make sure you're focused on the end goal. Whether studying at Rhodes or at GADRA, make sure you're focused on the one thing you're there for, which is to advance and further your education.
I also encourage students not to lose themselves along the way. Being a student can be challenging, and you will go through some rough patches but never stop striving to be who you're destined to become. Many people along the way told me I would never attain a degree or reach my goals, but I proved them wrong. So when life knocks you down, make sure you get up. If it knocks you down again, get up twice. If it knocks you down again, get up three times. Never give up!"
Dr Westaway congratulated Denston on his graduation and said: "We are very proud of Junaid's accomplishments at Rhodes University. To qualify for an honours programme requires very good performance in one's final undergraduate year. GADRA is particularly proud of its post-graduate alumni. In the 2023 graduation ceremonies, nine of our alumni were awarded with post-graduate qualifications. This reflects positively on the long-term impact of GADRA Matric School on its students. The school endeavours to both upskill and motivate its students. The latter is important because many students enter the school with low levels of self-esteem and ambition. GADRA believes in all young people and therefore uses the year to instil confidence in its students. The teachers practise an ethos of care and love. It is wonderful to see alumni such as Junaid progressing strongly in their academic journeys and in life in general."