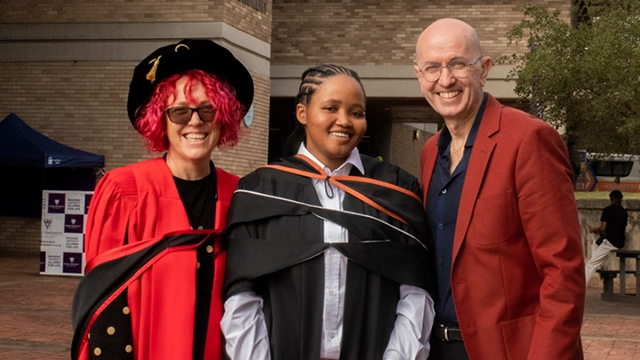 By Ephreeda Banda
Rhodes University student Anelisa Mfenyana's story perfectly illustrates how, if you are determined and work hard for what you want, you will achieve it.
Mfenyana had a very difficult matric year since she was orphaned and had to live by and care for herself. Her school marks suffered, but instead of accepting her final results, she went to GADRA Matric School (GMS) to improve many of her subjects.
GADRA Education (the holding organisation of GMS) partnered with Rhodes University in 2015 to assist with the vision of Pathways to the Future, spearheaded by Rhodes University Vice-Chancellor Professor Sizwe Mabizela upon his inauguration. The initiative aims to address the issues of unequal access to quality education through various programmes.
Following a successful year at GMS, Mfenyana was accepted into Rhodes University and completed a Bachelor of Social Sciences degree majoring in Sociology, Psychology, and isiXhosa. In 2021, she graduated with an Honour's degree in Psychology and received the Rhodes Academic Colours.
After that, she took her academics further and completed her Postgraduate Certificate in Education (PGCE) in the Senior Phase and FET. She received her diploma for the PGCE at the graduation ceremony in March 2023 – making it her third Rhodes University graduation. Currently, she teaches at the Holy Cross Primary School in Makhanda.
Mfenyana believes she has always wanted to be a teacher and has worked hard to achieve her dreams. "I believe that there has always been a teacher in me. After my matric, I worked as an assistant teacher, doing what professional teachers do. I enjoyed that, so there has always been a 'teacher seed' in me, and it was watered when I was an assistant teacher," she said.
The new teacher views her job as a contribution to building the young generation. "What I enjoy the most is knowing that I am taking part in moulding and assisting young people in building their future," she said.
She perfectly exemplifies the notion that one should never let their background determine their future, and she hopes to inspire others with her story. "Where a person comes from should never define them or determine their future. All dreams are valid and possible, and I always say this to people younger than me because I had first-hand experience," she said.
She attributes her success to the support from her teachers at GADRA. GADRA education manager Dr Ashley Westaway, Mfenyana's mentor, spoke highly of her determination to succeed and achieve her dreams. "Anelisa personifies determination, focus, grit, and taking chances. Growing up, she had to deal with significant challenges, including being orphaned in her matric year in 2010. For the next five years, she lived alone, relying on the stipend that she received from the Community Works Programme (CWP). She responded to these challenges with incredible fortitude. When she got the opportunity to upgrade at the GADRA Matric School, she took the opportunity with both hands," he said.
Dr Westaway feels privileged to have crossed paths with Mfenyana. "My wife, Dr Lise Westaway and I were privileged to look after Anelisa during 2015, her year at GMS, and we have acted as her parents since then. She upgraded significantly at GMS, to the extent that she was accepted to study at Rhodes University in 2016."
Over the past three years, over 150 GMS alumni have graduated from Rhodes University. GMS produces more of Rhodes University's graduates than any other school. This proves that GADRA successfully prepares its students for the demands of tertiary education. GADRA is particularly proud that so many of its students graduate from Rhodes University since it is one of the leading universities in the Eastern Cape.
Mfenyana says her achievements result from hard work and resilience, and she will continue to work hard to succeed. "It feels wonderful and unbelievable at times, especially when looking back to the four years I spent in the village after matric. What kept me pushing is always wanting to be a better version of myself, pave the way for children coming after me in my family, and make my late family proud."