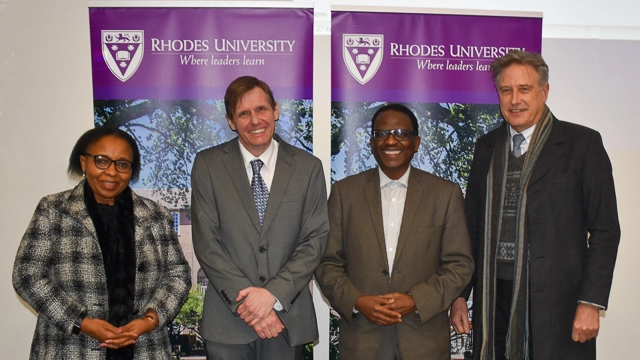 By Phillip Ndagurwa
On 16 August 2022, Associate Professor in Chemistry Kevin Alan Lobb delivered a lecture titled "Software-based chemistry and its ideal placement in remote and post-COVID learning". The lecture explored teaching strategies that assisted students during remote and online teaching and how they remain useful now that in-person instruction has resumed.
Professor Lobb's lecture followed his receipt of the 2022 Special Vice Chancellor's Distinguished Senior Teaching Award, which focuses specifically on academics' success and ingenuity with remote/online teaching during the COVID-19 lockdown restriction period. The Professor's dedication of nearly 20 years of service to Rhodes University had not gone unnoticed by his students, several of whom saw him as a fitting awardee for this honour.
After completing his undergraduate studies at Rhodes University, Professor Lobb taught at high school level for four years before returning to complete his Honours and PhD. He is a National Research Foundation (NRF) C3-Rated Researcher and teaches at all levels, from first-year classes to involvement with teaching some MSc coursework in Bioinformatics.
The first chapter of Professor Lobb's lecture provided those in attendance with a background in his area of chemistry. "Chemists work in three domains: macroscopic, microscopic, and symbolic," Professor Lobb stated, echoing the views of his colleagues as the presentation transitioned into the use of computers to determine properties of materials, which applies to computational chemists.
Professor Lobb further elaborated on how computers may calculate the macroscopic properties of materials based on their microscopic properties. These properties include molecular formula, molecular mass, and how these molecules interact with biological systems. In contrast, calculations of a molecule's vibration, an electron's movement within a molecule, a molecule's interaction with light, and a molecule's interaction with another molecule may all be done in the microscopic system.
The second chapter of the lecture explained how during lockdown, Professor Lobb worked with the Information and Technology Services Division to reconfigure a server at Rhodes University. This was done to give students access to calculations, particularly those in the microscopic and symbolic domains. The powerful server has become a welcome additional teaching resource in the Department and will continue to be used in the long term. Professor Lobb highlighted the web-based interface WebMO as one of the technologies that improved the computational chemistry curriculum since its adoption meant that students without access to computers could use their smartphones.
To illustrate the success of this strategy, Professor Lobb stated that the primary objectives had been met with each complex academic exercise that he has so far presented to his senior undergraduate students. "What I do know is that the students now know how to generate chemical information and how to evaluate that information," he said.
Being a lecturer who goes the extra mile, Professor Lobb ensured that animated slides were created for students who would not have access to screencasts or Zoom. Several of his courses were chalkboard-based and had to be transferred to a computer. Out of those courses, the ones he shared with other colleagues have received excellent comments.
Professor Lobb talked the audience through the problems of cheating and plagiarism in the online space. The Chemistry Department team employed several tactics to address the issues. One of the standout strategies that ensured robust multiple-choice assessments was utilising various alternatives for each question the students encountered. After working out the odds from the latest online assessment in his discipline, Professor Lobb said, "If a student came and repeated their Multiple Choice Test every second of their lives, they would never encounter the same assessment."
Chapter 8 of the lecture highlighted how the resources developed during lockdown, and partial lockdown, are still relevant and enhance teaching post-COVID. Before their practicals, students are directed to these online resources. As a result, they come well-prepared for their work. "When we come into the practical, we hit the ground running, and the questions are pertinent to the practical itself – deeper questions are explored," Professor Lobb said.
The closing chapter of the lecture saw Professor Lobb list the general guidelines that apply to computational chemistry: identifying the problem, constructing a solution, and evaluating and working in a cycle.
In his discipline, the question "How could we sustainably teach Computational Chemistry at Rhodes University for the long term?" stood unanswered well before the COVID-19 pandemic. However, thanks to Professor Lobb's application of the computational chemistry guidelines to teaching, the remote access to powerful tools provided the required access to computational chemistry and a framework for this type of work to continue and improve long after lockdown.