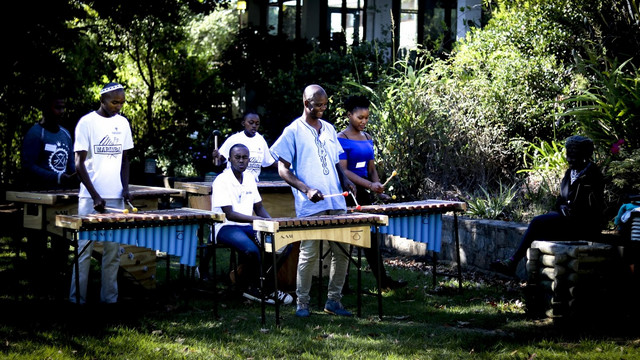 Rhodes > Latest News
ILAM's music makes it to the Oscars in 'Black Panther'
Date Released:
Thu, 4 April 2019 09:27 +0200
By Sam van Heerden, Masters in Philosophy student
The Rhodes University International Library of African Music (ILAM) is building on the past to help create a new present and future for traditional music from across Africa. Most recently, a selection of ILAM's recordings have been used to inspire Swedish composer, Ludwig Göransson, in the film Black Panther, which has won the Oscar award for Best Original Score.
"I think an award like the Oscars strengthens the recognition of the value and potential in [local] music – [combined with the film plot], which reinforces a narrative that's positive about the continent," said the Director of ILAM, Dr Lee Watkins.
Black Panther is a superhero film centred on the fictional city of 'Wakanda'– a flourishing and technologically advanced city in Africa. The protagonist and new King of Wakanda, T'Challa, must defend the city – and the rest of the world – from a powerful enemy. Although not without criticism, the film has been praised by many for its optimistic message about Africa, and for challenging Hollywood's Western and white-centric focus.
The use of traditional African musical elements in the film is significant. Watkins explains that up until the 1970s many music scholars looked down on traditional African music. This, he said, was a continuation of a colonial perspective which saw African cultures, including their musical components, as inferior. But there is now renewed interest in the music and a greater appreciation of its melodic and rhythmic complexity.
ILAM is a hub for this renewed interest, as it houses and conserves one of the world's largest archives of musical instruments and field recordings from around Africa. Some of the recordings date back to the early twentieth century, and many contain music and languages that were nearly wiped out by colonialism.
According to an article on Pitchfork, after Göransson was tasked with composing Black Panther's musical score, he travelled to Senegal and then to South Africa to ensure that the score had authentic African influences. Given ILAM's rich musical archive, Göransson came to Grahamstown to visit the library and subsequently used ILAM recordings to inspire parts of the film score.
"The archive is an avant-garde space," said Dr Watkins. He emphasises that ILAM's library is very much alive, rather than just preserved, in ILAM's projects. This means that using creativity to produce an optimistic vision that pays tribute to the past – as seen in Black Panther and its score – is in line with the vision of ILAM.
Watkins said the library is – above all – an archive of relationships with music at its centre. ILAM engages with young people, scholars, and composers from across the globe, and aims to foster social cohesion among students through performance.
ILAM also focuses on strengthening African connections. One of its main projects is concerned with "digital return", whereby its archived recordings are digitised and taken back to the communities or relatives of the original musicians. ILAM is also involved in Beating Heart, a collaborative project which gives ILAM's digitised recordings to DJs and producers from around Africa and the globe. This project feeds new life into the recordings, which are remixed into contemporary sounds and enjoyed in contemporary spaces.
"The University [and] Music Studies can be exclusionary," explained Dr Watkins, "[Through] having young people make new music, there is the creation of new knowledge and the transmission and sharing of skills. This is the key to how the past is invested in the present for the sake of the future: It's not just in the aesthetics of the music, it's in the doing."
Source:Communications