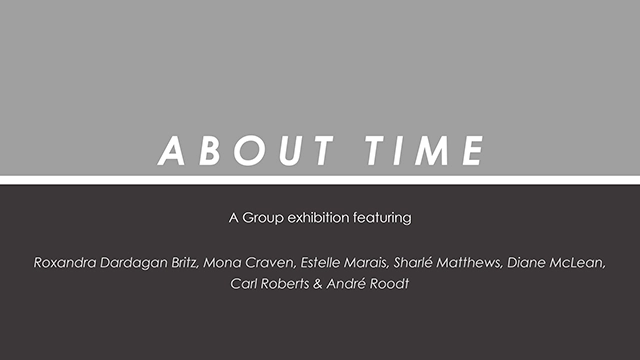 By Sam van Heerden
Four decades ago, a group of six first-year art students from Rhodes University decided that they would get together to exhibit in 10 years' time.
One of these former students, Sharlé Matthews, recalls a moment in the early '80s, "We were munching huge doughnuts and grabbing a quick coffee […], before getting back to our drawings" and so "the promise to exhibit together was made." Life paths diverged and meandered, as they do, and fortune would not see the group coming together after those initial ten years.
"But now, 40 years later, […] We are having that exhibition," said Matthews.
The exhibition, aptly called 'About Time', opens at The Gallery at Grande Provence, Franschhoek, 24 Sept to 24 Oct 2022. The show boasts an array of works by Estelle Marais and six of her former students – Diane McLean, Carl Roberts, André Roodt, Roxandra Dardagan Britz, Sharlé Matthews, and Mona Craven, nee (Lotz). Time – that ever elusive and inevitable tide – has shaped these artists and their visions uniquely. The exhibition's theme, 'time', is both because the show reflects on the passage of moments, days, and years and it is also about time to gather in creative conversation.
The group was at university when art in South Africa and elsewhere was moving from a more realist and formal orientation to one concerned with abstraction and the social world. During the last decade of Apartheid, the political climate was fraught with civil war tensions. Reflecting on these changing conditions, they have explored the human condition, the natural world, and social and political experiences.
Many of the artworks on display have been created especially for the exhibition, each artist interpreting the theme of time individually. The artists incorporate approaches ranging from the entirely abstract to absolute realism. Their work features diverse disciplines and styles that are applied across the media of sculpture, printmaking and painting.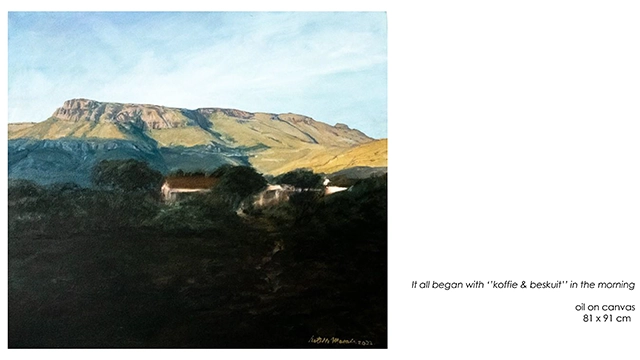 It all began with ''koffie & beskuit'' in the morning, oil on canvas by Professor Estelle Marais
Estelle Marais, a Rhodes University graduate herself, in a decade-long teaching career, assisted in establishing the Fine Art Department at the University of Fort Hare and was Head of the Fine Art Department at the Natal Technicon before returning to Rhodes University. Later, Professor Marais went on to found and head the Fine Art Department at the North West University.
Marais was the exhibiting group's first-year lecturer.
"Even back then, they were all serious and talented. And that combination is fantastic," she said. "I never doubted that something would come from them. I'm incredibly proud of them and grateful. Because I have learnt a lot from them over the years. Teaching art is not really a teaching situation; it's always about working together."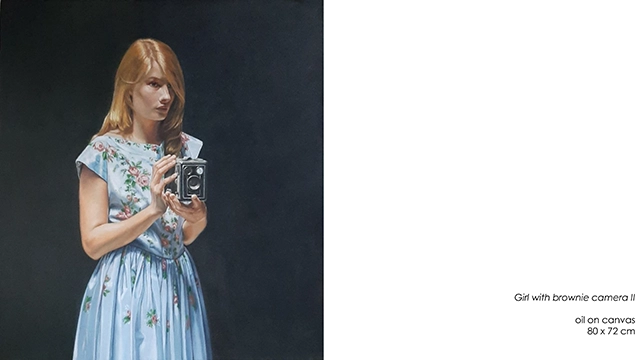 Girl with brownie camera II, oil on canvas by Diane McLean
Diane McLean is a realist painter known for portraiture, but her work includes nudes, landscapes, architectural studies and still life. Her works are held in private collections in South Africa and abroad and in local public collections. Her commissions include the Luthuli Museum, the Women's Development Bank and the official portraits at several South African universities.
"I have always been drawn to painting objects with a history and sense of nostalgia," explained McLean. "For this show, I included objects that are still a part of our everyday lives, but in their earlier forms, for example, the old telephone and Brownie camera. Today these two items are fused into one and are inseparable from us. Skulls and dried twigs also allude to death and the passing of time."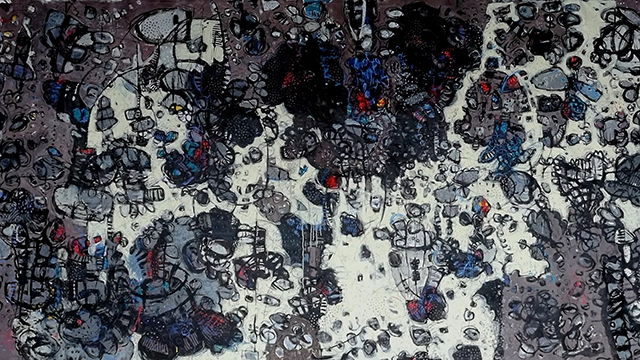 Prima Materia, acrylic, pencil & pastel on canvas by Sharlé Matthews
Like McLean, Sharlé Matthews is primarily a painter. She has had four solo exhibitions, participated in over 60 group shows and was awarded second place in the sculpture category at the 2009 Florence Biennale. Exploring styles of realism, expressionism, and abstract art, she has worked in various mediums with different materials, including sculpture. Her themes have centred on the human condition, San pictographs and their symbolism, death, vulnerability, skin colour and language.
"In keeping with the 'time' theme, I have called one of my works the 'Passage of Time'," said Matthews. "I wanted this work to float... like time floating on a cloud of memories. A passage is something you move through or along. It isn't a destination but a part of a journey."
The Man in the clouds I, mixed media by Roxandra Dardagan Britz
Roxandra Dardagan Britz works in printmaking and graphic design, primarily focusing on etching, monotypes, and mixed media. Her abstract works explore the human condition and comment on its social and political dimensions, and investigate themes such as violence, displacement, and loss. These are expressed through references to animals, the natural world, and Greek mythology. She has exhibited, amongst others, at the Chicago Museum in the US, the Delta Gallery in Zimbabwe, and the Spier Contemporary.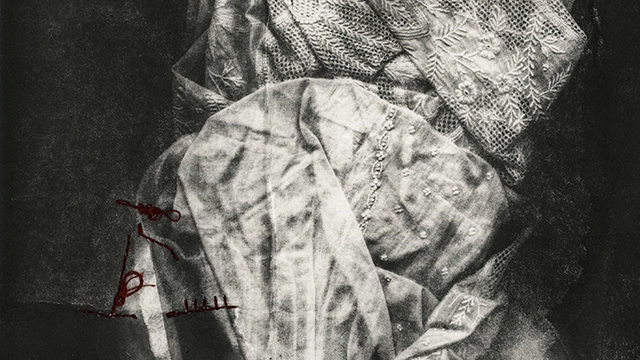 The dislocated cloth, photogravure, assemblage, tissue, hand sewing by Mona Craven
Dardagan Britz, and Mona Craven, trained together as printmakers after the year of Marias' tutelage. Craven draws with light, cloth and stitch to form installations and prints. Now a PhD candidate at the University for the Creative Arts in the United Kingdom, she reflects, "My training is rooted in the provincial town Makhanda; here, cloth, cultural belonging and landscape have formed a binding thread. […] this remains influential to my praxis now."
Craven's postgraduate education training from Rhodes University continually influences her approach to tutoring young designers and undergraduates. Her work presented at 'About Time' highlights the fragile cultural connections that form dislocated links across space and time.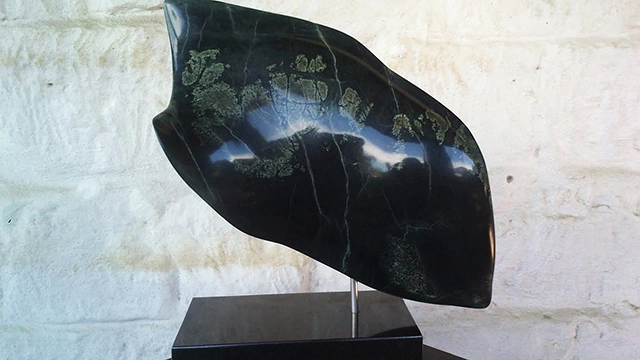 Iridescent Angel, serpentine stone by André Roodt
André Roodt is known for his eclectic sculptures formed from stones, bones, and wood. These found materials are manipulated to emphasise and "capture a moment in time, an underwater incident or a mythological figure in flight," as well as the issues past and present that we face daily. Roodt reflected that his time at the Rhodes University Art School influenced his progression as an artist:
"The sculpture lecturer, Jos Nel, took us on many foraging excursions into the bush and the mountains, down river courses, and along the coast. This is where we learnt to appreciate the materials that became inherent to our sculpting."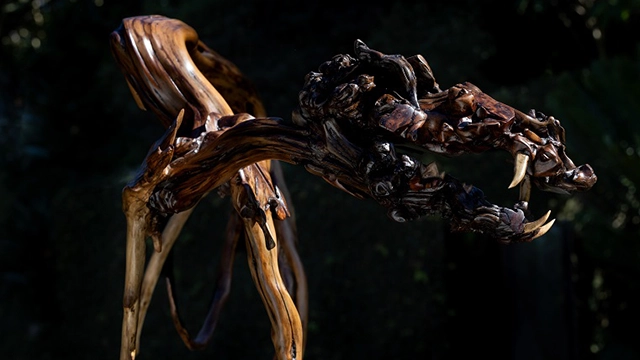 Covid-Cur, various wood by Carl Roberts
Carl Roberts is a sculptor who similarly uses bone, wood, and stone in his work to explore the emergence of their natural shapes, forms, and textures. Described as dream-like and surrealist, Roberts' sculptures are guided by the unconscious. His works are in private collections spanning 18 countries and have featured in several important public, private, and corporate galleries. This includes the Durban Art Gallery, the Pretoria Art Museum, the Oliewenhuis Art Gallery, the Rhodes University Collection and ABSA Bank.
Marais is a painter interested in landscapes, portraiture, and imaginary worlds exploring mythology. Recently, her work has focused on the arid beauty of the Karoo landscape, which remains "a part of her fibre." She looks at the rhythm, colours, tones and forms which express the atmosphere and character of the land, especially as these change throughout the day. Among her titles for the exhibition are 'It started with koffee and beskuit in the morning' and 'When kudus start to roam', which speaks to continuity.
Professor Marais has exhibited in 22 solo shows and over 100 group shows, has several works in private collections worldwide and is also featured in many public and corporate galleries. This includes Rhodes University, the Universities of Fort Hare, North West, NNMU, and Walter Sisulu, Nedbank, ABSA, and the Mmabana Cultural Centre.
Despite these achievements, Marais is humbled to exhibit with her former students.
Roberts explained that the theme of time that brings the exhibition together is as forward-looking as it is nostalgic. "Time is a universal concern," he explained. "We all have a limited amount, and we are at an age where we are becoming more aware of that limit. COVID-19, in particular, made us acutely aware of this vulnerability and mortality. […] One last Hurrah!"
"Although we are all scattered, some still living in the Eastern Cape while others are in faraway places, our early shared experience as students at the Rhodes University Art School has undoubtedly had a profound influence and has played a seminal part in shaping us as artists," as reflected by Dardagan Britz, "This is where it all began."
And so it did, those four decades years ago, when Marais patiently awaited her student's arrival, perhaps not in full knowledge of the rich artistic lives her students would lead.
The exhibition is an ode to what has been, what is, and what will be. It reflects on the remaining threads rooted in their common creative grounding and what diverse directions and visions have emerged from their divergent, sometimes overlapping paths.
'About Time' opened at The Gallery at Grande Provence, Grande Provence Heritage Wine Estate, Franschhoek on Saturday 24 September and will run daily until 24 October 2022, 11 am to 5 pm.
Please see more information here