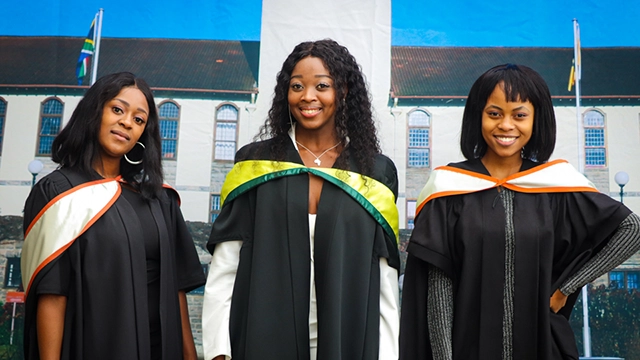 In an unprecedented follow-up, the upcoming Rhodes University graduation will see a substantial majority of women graduates. Of 1733 graduands, a staggering 1120 are women.
Starting on Wednesday, 29 March 2023, at 09h30, six graduation ceremonies will occur over three days. The events will be held at the 1820 Settlers Monument.
Vice-Chancellor, Professor Sizwe Mabizela congratulated all the graduands and said: "On behalf of our Chancellor, Justice Lex Mpati, and our Chairperson of Council Judge Gerald Bloem, we offer warm and heartfelt congratulations to all our students graduating next week. We congratulate the women, in particular, as they make up 64% of the total cohort. This is a tremendous achievement, given that not so long ago, women did not have access to basic education, let alone higher education. To see women performing as well as they are at Rhodes University is something that we all celebrate."
Professor Mabizela challenged young men to perform better, given that only 36% will be graduating in March.
Acting Registrar, Professor Dave Sewry said graduands should take pride in crossing the stage and being capped and hooded at the graduation ceremonies. "The Registrar's Division is responsible for maintaining student records. As such, for every student who registers for and completes a qualification, a record is kept of that registration together with a record of completion of that qualification. As Registrar, it gives me great pleasure to extend immense congratulations to all graduands/diplomats on the conferral of their qualifications. Each time a registration record is joined by a completion record, I am reminded of the time, effort, dedication and sacrifices, not to mention passion for studies that go hand-in-hand with successful completion," said Professor Sewry.
Rhodes University will also confer doctorates (honoris causa) to the following:
Chief Justice Raymond Zondo: Chief Justice of South Africa
Justice Mbuyiseli Madlanga: South African Constitutional Court Judge
Dr Debora Roberts: Head of the Sustainable and Resilient City Initiatives Unit in eThekwini Municipality
Professor Helen Rees: Founder and Executive Director of the Wits Reproductive Health and HIV Institute
Professor Janet Cherry: Professor of Development Studies at Nelson Mandela University.
On Saturday, a celebration in the form of a Garden Party for the graduates will take place at the Great Fields sports ground.
The University's social media channels will be jam-packed with pictures and videos, so keep a lookout for them. Please use the hashtag #RUGrad2023 for your own social media posts.
Twitter: https://twitter.com/Rhodes_Uni
Facebook: https://www.facebook.com/rhodesuniversity
LinkedIn: https://www.linkedin.com/school/rhodes-university
Instagram: https://www.instagram.com/rhodes_university/
Please check the graduation gateway for further information and updates regarding the ceremonies. Information will be available at https://www.ru.ac.za/graduationgateway/.