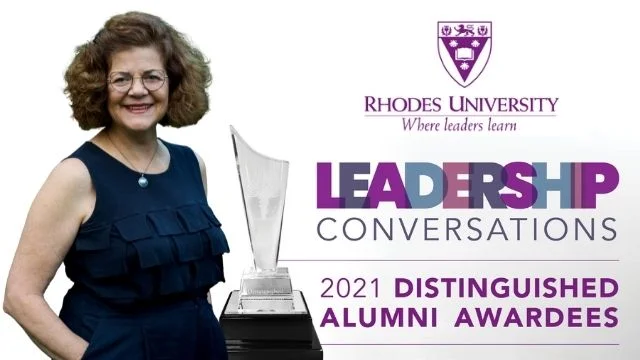 By Lindeka Namba, School of Journalism and Media Studies Student
As part of a series of its leadership conversations, Rhodes University's President of Convocation, Dr Michele Ruiters held a conversation with the 2021 Distinguished Alumni Awardee Ms Heloise Henning Emdon. The conversation under the theme "Access and Knowledge Networks for Development: Some lessons for higher education" was held virtually on the 11th of November 2021.
Heloise is a Manager: Internationally Sponsored Research Projects at Carleton University in Canada. She obtained her BA degree in African Politics and Philosophy from Rhodes University in 1981. She has a wealth of knowledge in promoting technology development, innovation, and collaboration in Africa and internationally.
The Distinguished Alumni Award acknowledges the recipient as an outstanding role model for current and future generations of Rhodes University students. In his congratulatory message, Rhodes University Vice-Chancellor, Dr Sizwe Mabizela said: "The recipient should personify the attributes and values of social justice, empathy, kindness, decency, integrity, honesty, compassion, civility and human solidarity. Throughout her life, Ms Henning Emdon has placed her knowledge, skills, and expertise at the service of humanity and has made a positive change. She is a force for good."
Heloise's co-nominator, Dorothea Hendricks, delivered her citation and described her involvement in ICT development on the continent as outstanding. "Rhodes University provided the foundation of formal knowledge and student life experience that seeded in her a commitment to social justice," said Hendricks.
Hendricks also touched on some of the work that Heloise has been involved in over the years. "Through Heloise's active participation and engagement, several networks were seeded and have continued to evolve into sustained organisations," she added. Heloise also works with various charities; community development centres; historically disadvantaged universities in South Africa, to provide evaluation to support student services and research capacity development as well as conducting workshops on various social justice matters.
Heloise expressed her heartfelt gratitude to her colleagues and friends who had nominated her and everyone else who was in attendance and those involved in putting together the event. She recalled her surprise upon initially finding out that she was a nominee. "I think of myself as more of a facilitator who works in the background to connect people to collaborate and to get them funded, so that they can be stars. So, to be recognised for playing this support role is a great honour," she said.
In her conversation with Dr Ruiters, Heloise discussed some of the projects she has worked on earlier in her career, highlighting the work she did in Mozambique as one of her first learning experiences. She said she realised that ICT connection is necessary, but not a sufficient condition for development when she was involved in the project that investigated the inequalities brought about by the current lockdown limitations at Mangosuthu University of Technology.
Heloise spoke about her role of continuing to support researchers and to source PhD funding for women in Africa. "It is those kinds of connections that to me breathe development, support and co-development of a world that I want to be part of. We have to be the change we want to see in the world," she said.
She concluded by once again thanking her alma mater, Rhodes University for the prestigious honour and the opportunity to share her story and experiences.