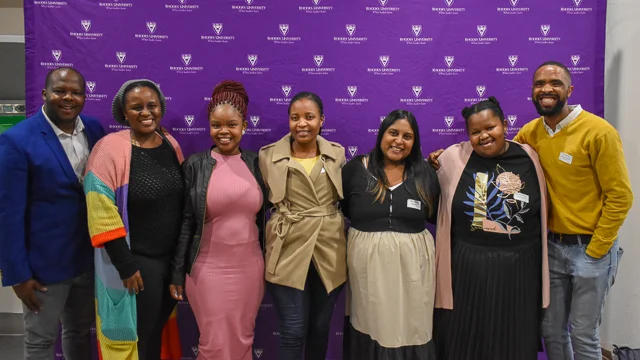 By Asephelele Shabalala
Rhodes University hosted its first Thomas Alty & Vice-Chancellor's Awards in three years last week, where a total of 111 staff members were recognised for earning an educational qualification during 2019, 2020, or 2021.
A Thomas Alty Award is made to a member of staff who is awarded a Masters or PhD degree or equivalent qualification while in the services of the University. A Vice-Chancellor's Award is made to a member of staff who is awarded a bachelor or Honours degree or a recognised professional qualification and matric or NQF level 1 (grade 9) qualification.
In her opening remarks, Human Resources Director Sue Robertson quoted former first lady of the United States Abigail Adams, who said, "Learning is not attained by chance; it must be sought for with ardour and attended to with diligence."
Robertson congratulated all those who were to receive awards. "We are here to celebrate your success," she said.
In his address to the delegates and awardees present, Rhodes University Vice-Chancellor Professor Sizwe Mabizela commended those who had succeeded in their educational goals despite the pressures of the pandemic. "The fact that you are here, having completed your qualification, is testament to your incredible resilience, resolve and fortitude to rise above all the hurdles that lay on your way. Indeed, it was your resolve, dedication and commitment to succeed that carried you through," he said.
When asked about what pulled her through the challenges of getting her qualification, Louisa Verwey, who works for the Cory Library and received a Vice Chancellor's award, said, "You have to believe in yourself. If you believe in yourself, you will push through."
Below is a list of those who received either a Thomas Alty award or a Vice Chancellor's award. Rhodes University congratulates you all on your success.
Thomas Alty Award recipients
Ms Stella Buthelezi - Master of Arts
Ms Thandiwe Matyobeni - Master of Arts
Ms Nqobile Msomi - Master of Arts, with distinction
Dr Clement Simuja - Master of Arts
Ms Catherine Parkinson - Master of Arts, with distinction
Mr Abner Accom - Master of Arts
Dr Trust Kabungaidze - Master of Arts
Ms Sandisiwe Nabo-Bazana - Master of Arts
Ms Julia Ruzyczka de Rosenwerth - Master of Arts, with distinction
Ms Kelly Kilian - Master of Arts, with distinction
Ms Bridgitte Le Du - Master of Arts, with distinction
Ms Sibusiso Klaas - Master of Arts
Mr Nathan Trantraal - Master of Arts, with distinction
Dr Deborah Ann Seddon - Master of Arts, with distinction
Ms Veliswa Mhlope - Master of Business Administration
Ms Lisa Maholo - Master of Commerce
Mr Ronald Griqua - Master of Education, with distinction
Ms Heide Kuhlane - Master of Education
Mr Sikhumbuzo Sibanda - Master of Education
Ms Corinne Cooper - Master of Music
Mr Benjamin Miller - Master of Science, with distinction
Ms Jaqueline Anne Van Dyk - Master of Science
Mr Francis Chindeka - Master of Science, with distinction
Ms Getrude Tshithukhe - Master of Science
Ms Olwethu Dlangamandla - Master of Science
Ms Emma Mostert - Master of Science, with distinction
Ms Thandiswa Nqowana - Master of Science (Pharmacy)
Dr Samukeliso Chikiwa - PhD
Dr Fortunate Gunzo - PhD
Dr Bulelwa Nosilela - PhD
Prof Juanita Praeg - PhD
Dr Samuel Nkopane Motitsoe - PhD
Dr Alan Parker - PhD
Dr Clement Simuja - PhD
Dr Karl Van Der Schyff - PhD
Dr Gugulethu Baduza - PhD
Dr Tamaryn Jean Friderichs - PhD
Dr Kavish Jawahar - PhD
Prof Helen Julia Kruuse - PhD
Dr Pedzisai Makoni - PhD
Dr Sine Memela - PhD
Dr Thoko Sipungu - PhD
Dr Guy Sutton - PhD
Dr Natasha Engelbrecht - PhD
Dr Catherine Gorham - PhD
Dr Phemelo Hellemann - PhD
Dr Anna James - PhD
Dr Sandile Phakathi - PhD
Dr Nomalanga Mashinini - PhD
Vice-Chancellor's Award recipients
Ms Nozuko Kuhlane - Bachelor of Education (Hons)
Ms Alyssa Williams - Bachelor of Commerce (Hons) with distinction
Mr James Brook - Bachelor of Science
Ms Anna Talbot - Bachelor of Education (Hons) with distinction
Ms Sinegugu Blose - Bachelor of Commerce (Hons)
Ms Zizipo Lusizi - Bachelor of Commerce (Hons)
Mr Nkosekaya Hlitane - Bachelor of Arts (Hons)
Ms Louisa Verwey - Bachelor of Information Systems
Mr Emiel van Son - Bachelor of Science
Ms Emma Marwa - Bachelor of Commerce (Hons)
Mr Gerald Brown - Bachelor of Commerce (Hons)
Mr Evert Knoesen - Catalyst Certificate
Ms Jay Pillay - Postgraduate certificate in HEI
Dr Eugene Grosch - Catalyst Certificate
Dr Sukhmani Mantel - Catalyst Certificate
Prof Aretha Phiri - Catalyst Certificate
Dr Jane Tanner - Catalyst Certificate
Dr Karl van der Schyff - Catalyst Certificate
Dr Nokubonga Mgqatsa - Catalyst Certificate
Dr Sandie Phakathi - Catalyst Certificate
Mr Lungile Penxa - Catalyst Certificate
Ms Mbali Khoza - Catalyst Certificate
Mr Kanyiso Ntikinca - Catalyst Certificate
Prof Lizielle Jacobs - Catalyst Certificate
Dr Jono Davy - Catalyst Certificate
Prof Eduard Jordaan - Catalyst Certificate
Dr Nomalanga Mashinini - Catalyst Certificate
Dr Sibanisezwe Khumalo - Catalyst Certificate
Dr Mandisi Majavu - Catalyst Certificate
Ms Kelly Kilian - Catalyst Certificate
Dr Kimmera Pillay - Catalyst Certificate
Ms Amy Langston - Catalyst Certificate
Dr Jessica Cockburn - Catalyst Certificate
Ms Sone Pretorius - Catalyst Certificate
Dr Alan Parker - Catalyst Certificate
Prof Ben Smit - Catalyst Certificate
Ms Yolani Ndamase - Catalyst Certificate
Ms Nomonde Tsepo - Catalyst Certificate
Dr Candice Coombes - Catalyst Certificate
Ms Laura Dingle - Catalyst Certificate
Prof Nomusa Dlodlo - Catalyst Certificate
Dr Catherine McLean - Catalyst Certificate
Dr Ntethelelo Sibiya - Catalyst Certificate
Mr Evert Knoesen - Certified Director certificate
Ms Ncebakazi Ntsokota - Postgraduate Diploma in Journalism
Mr Tsepo Lepelesana - Bachelor of Laws
Ms Nomathamsanqa Yawa - Postgrad Dip in Enterprise Management
Ms Lusanda Klaas - Postgrad Dip in Enterprise Management
Mr Luyolo Mapekula - Postgrad Dip in Enterprise Management
Ms Sive Mpapha - Postgrad Dip in Enterprise Management
Ms Odette Hilpert - Postgrad Dip in Enterprise Management
Mr Anthony Maccario - Postgrad Dip in Enterprise Management
Mr Siyabonga Mtembu - Postgrad Dip in Enterprise Management
Ms Denetha Peters - Postgraduate Certificate in Education, with distinction
Ms Masego Mabaso - Postgrad Diploma in Higher Education
Mr Silence Balele - Postgraduate Diploma in Higher Education
Ms Tracy Nicole Bowles - Postgraduate Diploma in Higher Education, with distinction
Prof Sibhekinkosi Nkomo - Postgraduate Diploma in Higher Education, with distinction
Prof Oghenekaro Odume - Postgraduate Diploma in Higher Education, with distinction
Prof Nomusa Dlodlo - Postgraduate Diploma in Higher Education
Dr Sheunesu Ruwanza - Postgraduate Diploma in Higher Education
Dr Kevin Alan Lobb - Postgraduate Diploma in Higher Education
Dr Candice Owen - Postgraduate Diploma in Higher Education, with distinction
Dr Ntethelelo Sibiya - Postgraduate Diploma in Higher Education