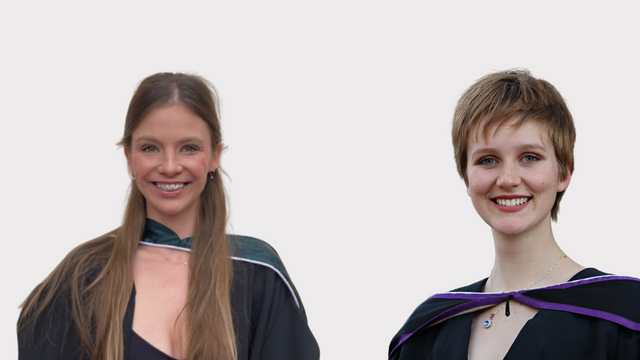 By Zindzi Nkunzi
Two Rhodes University Honours graduates, Kristen Paige Burgess and Emily Ann Webster, were awarded the Patrick and Margaret Flanagan Scholarship this year (2022). Burgess is currently enrolled for a Master's in Chemistry at Rhodes University and Webster for a Master's in English Literature at the University of Cape Town (UCT).
In a world full of possibilities and opportunities, the academic journeys of Burgess and Webster have been an inspiration. These two outstanding academic students have always known what they want and have worked hard to achieve their goals.
The Patrick and Margaret Flanagan Scholarship is a prestigious international scholarship that aims to enable South African women graduates to attain postgraduate qualifications overseas. Beneficiaries are advised to return to South Africa on completion of their studies to impart their skills for the benefit of fellow South Africans.
The scholarship is open to women graduates of South African descent who are proficient in English. The selection process is based on academic merit and broader qualities of intellect and character.
Financially encouraging the dreams and aspirations of young women, the scholarship is offered across various academic disciplines. Worth R750 000 per annum, it provides two years of full-time postgraduate study.
Studying abroad and receiving a scholarship is a life-changing experience. In pursuit of going after her dreams and attaining them, Burgess indicated, "I have always had an interest in studying abroad. I went the Chemistry route due to the industrial opportunities in Chemistry – if I decide to work in the industry one day."
Burgess realised early on that without a Master's degree, her career and research advancement opportunities would remain low. "I could find a job with my Honours in Science, but it would mean assisting someone else. I'd much rather work as part of a team than a subordinate," she said.
Burgess expressed her anxiety regarding waiting to hear about the outcome of her application for the scholarship. "After I applied for the Flanagan Scholarship, I heard nothing for some time. I felt disappointed since they said if you don't get correspondence, assume your application was unsuccessful."
Then early in the year, she received communication from the Manager: Postgraduate Funding at Rhodes University, John Gillam, who explained that the process had been delayed due to the COVID-19 pandemic, and she was shortlisted.
"And when I got selected, I couldn't believe it because I had walked into the interview room without getting my hopes up," she said.
Webster, on the other hand, has always dreamed of becoming an inspiring educator to positively impact future generations' lives. "I've wanted to be an educator since I was young, and the chance to study at such a high level has opened many more opportunities to make a difference within the education realm," she said. "I first heard about the Patrick and Margaret Flanagan Scholarship when I was 15 years old and had my eye on it throughout my undergraduate and Honours degrees."
After completing her studies abroad, Webster intends to return to South Africa and give back to her homeland, all in the spirit of growing and developing her own country. "I plan to return to South Africa after my studies and to start applying everything I have learned," she said.
Both awardees expressed much gratitude for being granted the Patrick and Margaret Flanagan Scholarship. Once they have completed their Master's degrees, they plan to use the Scholarship to study their PhD studies abroad.