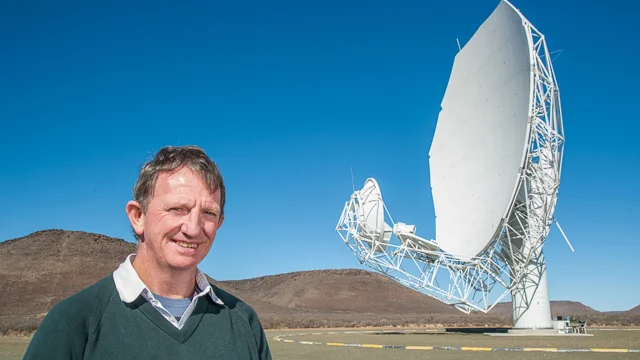 By Sylvia Mugwagwa
Professor Justin Jonas, a much-acknowledged architect of the international Square Kilometre Array (SKA) project, recently gave a talk at his old school, Muir College in Uitenhage, to about 150 Grade 12 science learners from the Gqeberha/Kariega area.
The talk, which was centred around the SKA project, was attended by his former science teacher at Muir College, Alan Whitehead, also an alumnus of Rhodes University. Prof Jonas recognises Whitehead as the person who nurtured his interests and passion in radio astronomy and electronics. This story of the shared passion for radio astronomy of these two Rhodes University alumni is a true testament to the power educators have in impacting the lives and careers of their students.
In an interview with Prof Jonas, he recalled the strong academic underpinning his years at Muir College had and expressed how his love for mathematics, physics and science was nurtured by the maths and science teachers at the school. However, it was Whitehead who enhanced his interest in electronics and radio astronomy. Whitehead ran a mentoring group for learners called the Radio Group as an extra-mural activity offered at the school.
"In the Group, we got the opportunity to do joint and ambitious projects under Alan Whitehead's supervision. We undertook projects like building radios through setting up large aerials, and other more advanced projects which didn't quite work out, like trying to build our own calculators and radio telescopes," Prof Jonas recalled.
Alan Whitehead was at Rhodes University in the 1960s. He was a student in the Physics Department and did his undergrad degree with the department before pursuing a teaching diploma. During the later years of his degree, he started working with the Radio Astronomy Group established at Rhodes University and often volunteered to assist with the experiments they were conducting.
Whitehead drew on his time at the Radio Astronomy Group at Rhodes University to teach his learners at Muir College. He even challenged them to build their own radio system to listen to the Sun and Jupiter, which was based on what the Radio Astronomy Group at Rhodes University had done. Despite the young high school electronics enthusiasts at Muir College not having the instruments and resources to explore and undertake the construction of such a project entirely, the interest and passion Whitehead imbued in them cannot be understated.
"My parents were wondering what I wanted to do and where I would go after school. Mr Whitehead said to me, 'If you're interested in radio astronomy, then you should try Rhodes University'," said Prof Jonas. "My parents and I then drove down to Rhodes University, arrived unannounced, went up to the secretary of the Physics Department and ended up getting a tour."
He described how Professor Eddie Baart, the then lead professor of Radio Astronomy at Rhodes University, showed him around the laboratories. "What I'd only before seen in electronics magazines was being done in these labs. It was what I had been dreaming about. So, I looked at my parents and said, 'This is it. I'm studying here'."
Prof Jonas also credits Whitehead's more practical approach to teaching for helping him throughout his career. "It has been one of the most important things [in my career], not just approaching things from a theoretical point of view, but to be able to literally get my hands involved," he stated.
At his recent Muir College talk, Prof Jonas specifically requested the presence of his former teacher, Alan Whitehead. At the talk, he presented a few slides that showed how Whitehead was the original instigator of the MeerKAT Radio Telescope, the pathfinder telescope for the international SKA.
"I was delighted to have the opportunity to credit him in this way. If it weren't for Alan and his Muir College Radio Group, there would be no MeerKAT Radio Telescope in South Africa and no SKA. It all links back to him, and I hope he, alongside all my other mentors at Rhodes University, can take some pride in it," he concluded.
Source: Communications