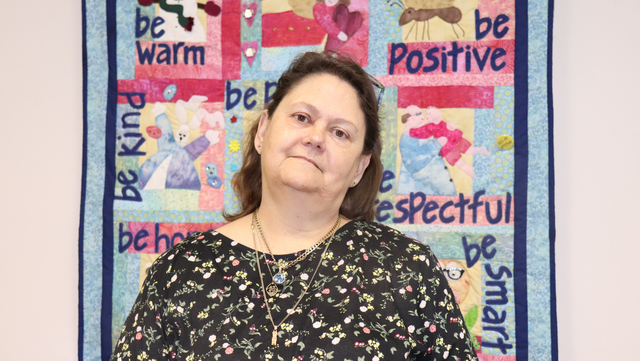 By Professor Adéle L Moodly, Registrar
Guest speaker at the seminar in the Registrar's Division, in celebration of Women's Month, Mrs Desiree Wicks presented an insightful and well-articulated talk on Quilting, Fabric Art, Fabricology and other craziness – Life Balance, Therapy and an amazing Community. Sharing her exquisite quilting, she took her listeners through her journey sharing how she coped with the stresses of lockdown and of being the Manager in the Student Bureau and Data Processing Unit. "I would not have survived the severe lockdown last year, had it not been for my patchwork ", she said.
Lighting up Eden Grove with her world of beautifully, brightly coloured fabric art, she fondly calls her "lappies" (pieces of cloth), Mrs Wicks painted a world of patchwork and quilting not only as a source of regaining life balance, but also as a sense of community, of slave-liberation and as an expression of freedom for imprisoned women. Explaining how the American settlers used coloured patchwork to signal safe houses during the American slave-period, the colours gained new meaning for those listening, enthralled. Mrs Wicks spoke of how women prisoners aboard the Rajah in 1841, en route to Australia, used the sewing supplies with which they had been gifted to empower them with new skills. Together, they created what became known as the Rajah quilt, "tangible evidence of their gratitude and evidence of what co-operative work can do".
Closer to home, Mrs Wicks is part of a quilting group who gathers a few times a year; and use scraps and donated material to make "quilts of love" which is donated or handed out to those who need them. Mrs Wicks also teaches her craft to women, students and learners from local schools. Often, they put up a big exhibition displaying various work. "The joy that I get from these interactions and the love I get in return cannot be quantified or explained" she shared.
"I am passionate about my job and I am involved all hours of the day and I would work endlessly if I allowed myself. BUT life has to be about balance and self-care and self-love!", said Mrs Wicks. "Sitting down with my incredible machine and my material and all the quilting notions takes me away from the pressures of everyday life and gives me time to focus on something creative and beautiful. It is cheaper than therapy, it soothes me, and I have the satisfaction of a beautiful end product", she said.