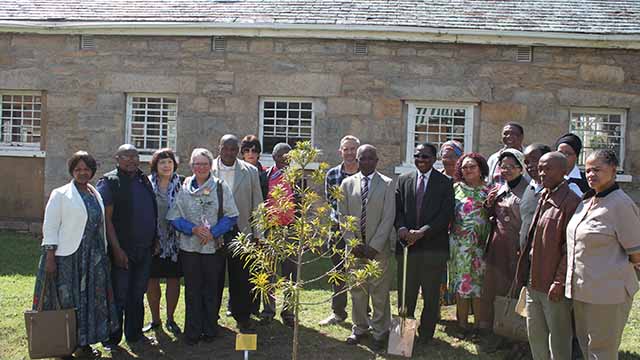 Rhodes > Latest News
Rhodes commemorates 22 retirees
Date Released:
Tue, 11 September 2018 11:36 +0200
By Ngubenyathi Mtshazi, Bachelor of Social Sciences student
Rhodes University's Vice-Chancellor, Dr Sizwe Mabizela hosted various staff members and family to celebrate long service and Arbour Day on 4 September.
The celebration, held behind Helen Joseph residence, not only highlighted the importance of planting and preserving indigenous trees but also celebrated the 22 retirees about to leave the University.
Arbor Day gives people a way to contribute to the achievement of a green, dignified and healthy environment. As such, it was only fitting for this day to coincide with the celebration of the retirees for their loyalty and lasting service to the University community.
In a heartfelt speech, Dr Mabizela touched on the transition of the retirees as they now embark on a journey of new possibilities. "Our greatest strength as an institution is the quality of the staff," he said.
"One of the greatest privileges of a Vice-Chancellor is that he receives all of the accolades about the University and is commended for being a great leader. Deep down in my heart, however, I know that this institution is what it is not because of a Vice-Chancellor but because of every one of you," Dr Mabizela thanked retiring staff members.
Manager of HR Operations at Rhodes University, Herman Saayman explained that a tree represents a symbol of hope and life, which he compared to the role that the staff members have played in their long service to the University community.
The retirees who had a tree planted in their honour, were:
Mrs Lynette Bodill
Prof Jonathan Lancaster
Mr Nzame Tleki
Mr Malusi Mzangwa
Mr Lulamile Marangxa
Mrs Auria Soyeye
Ms Eleanor Anderton
Mr Jeffrey Qubuda
Mr Zwelakhe Ralo
Mrs Nomvula Miya
Mrs Buyiswa Manyati
Mrs Lydia Botha
Ms Nozithembiso Kolweni
Mr Danisile Booi
Mrs Sylvia Armstrong
Mr Thobile Nontyi
Prof Marius Vermaak
Prof Alan Hodgson
Mrs Fiona Still-Drewett
Prof Daniel Wylie
Mr Patrick January
Ms Liziwe Fosi
Source:Communications