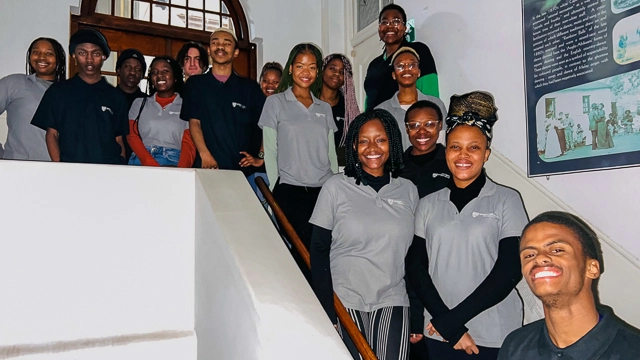 The Rhodes University Chamber Choir (RUCC), conducted by Mr Kutlwano Kepadisa, are currently on their first tour since the COVID-19 pandemic hit. They are visiting Johannesburg and Bloemfontein between 19 and 23 August 2022.
The aim of the tour is to network with other university choirs and alumni of the RUCC. Their itinerary includes performances with the choirs of Nelson Mandela University (NMU), the University of Johannesburg (UJ) and University of the Witwatersrand (Wits) and performances at various churches in Johannesburg and Bloemfontein. The Choir will also perform at high schools in Johannesburg to promote Rhodes University as a preferred higher education institution of learning in South Africa.
"The Choir is excited to tour and perform after a long hiatus due to the COVID pandemic, especially since we have welcomed new members," said Kepadisa. "We also hope that the experience gained from the tour will stand the Choir in good stead for future choral competitions and for the RUCC's 70th anniversary next year."
The Choir would like to thank the Rhodes University Department of Music and Musicology and the Division of Communication and Marketing for all their support in helping prepare for the tour.
"An extremely special thanks to Beccy Stones, the RUCC Guild and the host families who have so kindly agreed to host the choristers in Johannesburg," Kepadisa stated.
The Choir's public tour performances:
Saturday 20 August – afternoon concert at St Martin's in the Veld (Rosebank, Johannesburg) at 15:00
Sunday 21 August – mass and lunch concert at St John's Anglican Church (Orlando West, Johannesburg) at 10:00 and 13:00
Monday 22 August – campus tour and performance with the Wits Choir (University of the Witwatersrand campus) from 10:00
Tuesday 23 August – evening concert at the Anglican Cathedral in Bloemfontein at 19:00
Please keep an eye on the Choir's social media pages: @ruchamberchoir on Instagram and @Rhodes University Chamber Choir on Facebook for updates on the tour.