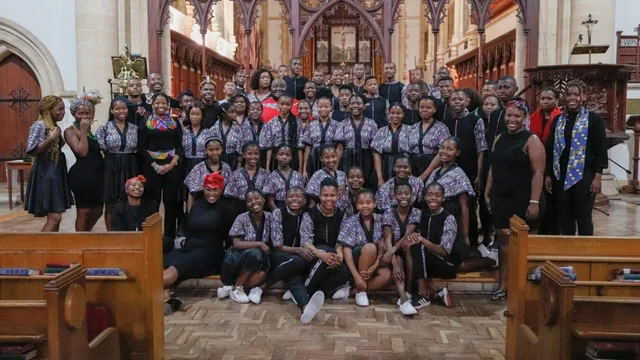 By Alungile Boqwana, School of Journalism and Media Studies student
On Friday, 08 October 2021, Rhodes University Chamber Choir (RUCC) collaborated with Zolani Youth Choir (ZYC) and Makhanda KWANTU Choir to hold a concert at Cathedral of St Michael and St Georges. The audience comprised various citizens from the Makhanda community, including the Dean of the Cathedral, Reverend Mzinzisi Dyantyi. The event brought pride to the town of Makhanda with supporters and lovers of choral music coming out in numbers.
The RUCC teamed up with the KWANTU Choir to open the event which was titled 'A Night of Song and Dance'. They sang four songs, starting with the song "Let my Love be heard".
The conductor of both RUCC and KWANTU Choir, Kutlwano Kepadisa described the song as a 'yeaning that angels soar to Heaven's gate and God welcoming the deceased loved ones with peace and grace'.
The two choirs closed with the Lord's Prayer "Baba Wethu" (Our Father). The mood of spirit and praise became jubilant as the ZYC, under the baton of Odwa Mvunge, approached the stage with "Molweni" (Hello). The audience was on its feet with ululations as they welcomed ZYC on stage with the warmth and kindness of the creative city, Makhanda.
One of Sivuyile Scott Msizi's songs "Thethela Bawo" rendered by ZYC with piano and choir portrayed the grief and anguish of the brutal killings in South Africa of women and children. Msizi expressed through the music a plea to God to intervene and erode all injustices on women and children. This song, which was also a commentary on social ills, was a hallmark and served as an exemplary point of reference on how composers are influenced by their social context. Mvunge expressed his gratitude for the warmth and hospitality of the Makhanda people. He said: "The presence of people in support of music motivates us to move forward; thank you very much".
A rendition of Msaki's "Ulwandle lutshile" on the Adungu (African harp) done as a collaboration with all three choirs shook the audience and drove them to deep meditation as they shed tears. The three choirs closed the event with the song "We are walking with Jesus" as the audience stood from the pews clapping, bowing, and cheering.
Source: Communications