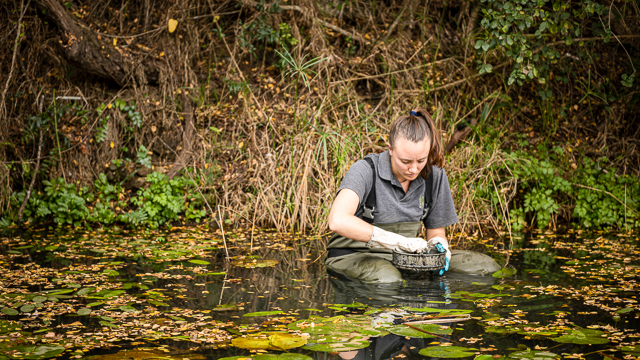 Megan Reid, a PhD candidate in the Department of Zoology and Entomology at Rhodes University, has won the prestigious Young Entomologists Essay Prize from the Entomological Society of South Africa (ESSA).
ESSA is over 85 years old and boasts over 300 members, including Rhodes University staff members such as current ESSA president, Professor Julie Coetzee, and the Deputy-Editor of the societies journal, Professor Iain Paterson.
The most recent newsletter of the ESSA, Rostrum, has once again highlighted the importance of Rhodes University in the entomological community of South Africa by featuring Reid, who said she was inspired to follow a career in entomology after a first-year course at Rhodes University
Reid won the annual Young Entomologist Essay Prize for her essay 'My biggest challenge as an Entomologist'. In it, Reid explores her journey of overcoming her difficulties and insecurities regarding rearing insects on aquatic plants.
Her PhD thesis, which was recently submitted and is under examination, was also in the newsletter. In her PhD report, entitled 'Wandering through the lilies', Reid talks about how she was inspired to become an Entomologist during her first-year classes at Rhodes University and describes her MSc and PhD journey with the Centre for Biological Control (CBC).
Reid is now a PostDoc Fellow with the University of Florida, where she continues to work with the insects associated with aquatic plants. Rhodes University prides itself in consistently producing professional Entomologists like Reid, who contribute to the ESSA and the global entomology community at large.