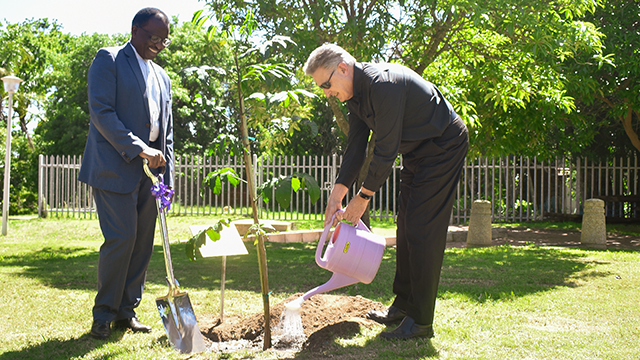 By Lindokuhle Mnqayi
On 21 November 2022, Rhodes University said goodbye to its retirees at a special tree planting celebration event hosted on the Barratt Theatre Complex's lawns.
"It is appropriate for Rhodes University to honour you today. Working with you all was an honour, and we will always cherish you," said Human Resources Manager of Learning & Development, Mr Schalk van der Merwe. "You have been outstanding in the functioning of the institution."
The Vice-Chancellor of Rhodes University, Professor Sizwe Mabizela, was among the attendees. He spoke briefly before inviting Ms Nasiphi Tafane from the Human Resources Division to read retiree citations.
Prof Mabizela called on Professor Peter Clayton, outgoing Deputy Vice-Chancellor of Research and Innovation, to do the honours of unveiling the Natal Mahogany tree's plaque, which would serve as a symbol of honour for the 2022 retirees. Prof Clayton is this year's longest-serving retiree with 40 years of service at Rhodes University.
The retirees for 2022 are:
Mrs LM Cartwright, 35 years' service
Prof. PG Clayton, 40 years' service
Prof. WN Ellery, 14 years' service
Mr JP Gillam, 29 years' service
Ms N Harmans, 22 years' service
Mr DR Harris, 17 years' service
Prof. R Hughes, 37 years' service
Ms M Japp, 29 years' service
Mr M Kewuti, 19 years' service
Miss DV Kila, 38 years' service
Mrs NS Maqanda, 27 years' service
Dr S Marais, 17 years' service
Mr GB Mitochi, 22 years' service
Mr MD Mthwa, 21 years' service
Ms NM Mzongwana, 21 years' service
Mr P Ngxitho, 35 years' service
Mr MA Olivier, 20 years' service
Mrs D Philipson, 25 years' service
Mr JA Pieterse, 27 years' service
Prof. J Praeg, 20 years' service
Prof. LE Quinn, 18 years' service
Dr CC Remsing, 24 years' service
Prof. M Schafer, 25 years' service
Prof. SR Simango, 19 years' service
Mrs LE Sparrow, 16 years' service
Prof. I Szyszkowski, 31 years' service
Mr JL Trollip, 14 years' service
Mrs NJ Vambe-Yapi, 32 years' service
Mrs ASM Wagenaar, 20 years' service
Miss NG Wakashe, 24 years' service
Mr EC Wessels, 26 years' service
Mr FX Williamson, 30 years' service
Mrs J Yasini, 21 years' service