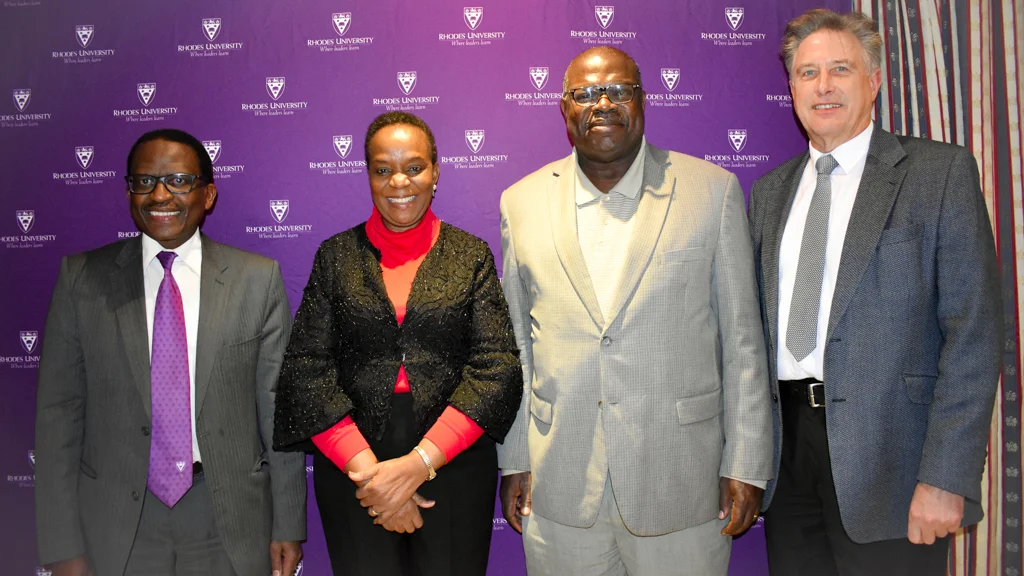 By Zindzi Nkunzi
A delightful evening filled with laughter and smiles, with everyone interacting and conversing with one another. This week, Rhodes University hosted a dinner in honour of the visiting African Research Universities Alliance (ARUA) special guest, Deputy Vice-Chancellor for Research, Innovation and Strategic Partnerships at the University of Ibadan: Professor Oluyemisi Bamgbose and ARUA Secretary General, Professor Ernest Aryeetey.
The delegation was hosted by Rhodes University Vice-Chancellor Professor Sizwe Mabizela. In attendance was Deputy Vice-Chancellor for Research and Innovation Professor Peter Clayton, Deans of faculties, other academics and staff.
Professor Mabizela indicated said: "Professor Aryeetey is visiting Rhodes University because it hosts one of the Centre of Excellence in Water. He is visiting South African institutions that are a part of the ARUA. He is an incredible driving force behind ARUA." The Vice-Chancellor further commended Professor Aryeetey for his steady leadership for ARUA.
Describing Professor Aryeetey, Professor Clayton said he is "the most amazing networker that has made an immense contribution to Rhodes University and Africa as a whole. We have benefited as a member of ARUA from the kind of networking that you have done internationally on behalf of our university. It has really been fabulous for us, and we hope it continues to be."
While mentioning the universities, he will be visiting across Africa. Professor Aryeetey said, "the idea is to be able to speak more confidently about what is happening at our ARUA universities."
He stated that he is sometimes asked by potential funders why some South African universities are not part of ARUA. "I feel that by visiting these institutions, I would be able to answer these kinds of questions with evidence," he said.
"Rhodes University hosts one of the most active Centres of Excellence. The Water Center is amazing in terms of its ability to bring in other universities," added Professor Aryeetey.
Professor Clayton said: "ARUA is the amalgamation of some of the stronger universities across the continent in research. We are trying to work towards using what we are all strong at, to raise the scholarly voices of Africa and get a critical mass together to achieve a few things."
Professor Bamgbose expressed gratitude and was impressed with the hospitality provided by Rhodes University management and staff. "Rhodes University is very open, I got to visit a number of departments, and I was also allowed to sit in management meetings. This place has been amazing; I have learnt a lot," she concluded.