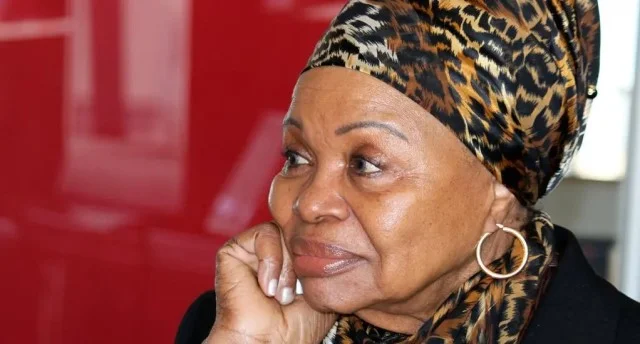 The Rhodes University community is saddened by the passing of Ambassador Lindiwe Mabuza, who died yesterday afternoon at the age of 83. A few months ago, the University Senate and Council voted to confer the degree of Doctor of Literature (D Litt) (honoris causa) on Ambassador Mabuza at the April 2022 graduation ceremonies.
This honour was in recognition and celebration of her long and sustained contribution as a dedicated cultural and literary activist, freedom fighter, and educationalist.
Ambassador Mabuza was a politician, diplomat, academic, journalist, and cultural activist. She served as a Member of the first democratically elected Parliament of South Africa. She also served as South Africa's Ambassador to Germany, Malaysia, Brunei, the Philippines, the United Kingdom, and Ireland. Her many accolades include an honorary doctorate from the University of Durban-Westville in 1993, the Yari Award for contributions to human rights and literature from New York University in 1997, and the South African National Order of Ikhamanga in Silver in 2004.
In August, Ambassador Mabuza participated in the two-day virtual colloquium organised by Dr Siphokazi Magadla (Rhodes University), Dr Babalwa Magoqwana (Nelson Mandela University), and Dr Athambile Masola (University of Cape Town) to celebrate the 60th anniversary of the role played by women in the armed struggle for liberation in South Africa.
Following this event, she wrote a note of appreciation to the Vice-Chancellor, Dr Sizwe Mabizela:
"Many thanks again for enriching us with the videos of two glorious days marking South African Women's participation in our liberation's Armed Struggle. What a sterling indelible honour that Rhodes [University] and your partner universities paid our combatants, both those who have passed on and the living.
"The fact that this was done jointly with the Nelson Mandela University and the University of Cape Town enabled a greater intergenerational outreach than otherwise. We are most touched and appreciative of all efforts by faculty staff and students who made the two days an unqualified intellectual stimulation and success that it truly was, even for us as panelists," she said.
"We owe her an enormous debt of gratitude and appreciation for all the selfless sacrifices she has made throughout her life as a committed freedom fighter, a determined cultural and literary activist, and a champion for women's emancipation. She was a phenomenal woman of grace, a woman of elegance and style, an embodiment of humility, and courage and dedication personified. That is why our University saw it fit to honour her with a doctorate. It is unfortunate that she is no longer with us but her immense contribution to the liberation of our country from centuries of colonialism and decades of apartheid will stand as a monument to this gallant soldier of human rights, social justice, and human dignity," Dr Mabizela said.
Dr Mabizela had communicated telephonically with Ambassador Mabuza the University's offer of an honorary doctorate in August and followed this with a letter on 26 November 2021. She was absolutely excited about the honour and was looking forward to the official conferment of the honorary degree.
"On behalf of Rhodes University Council, Chancellor Judge Lex Mpati, Board of Governors, and the university community at large, we send our deepest condolences to Ambassador Mabuza's family, friends and colleagues. May her soul rest in eternal peace," Dr. Mabizela said.