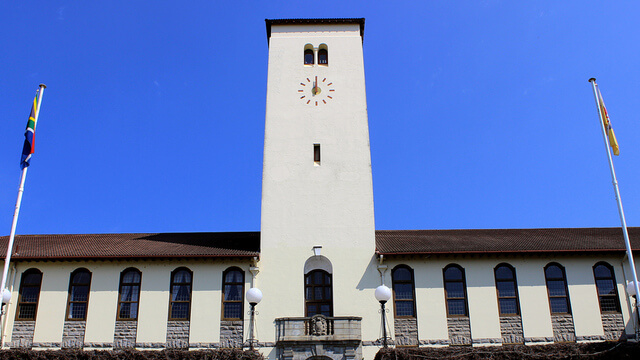 The plan for the full return to campus of both staff and students took an important step on Wednesday, 18 August 2021, with the constitution of several technical Task Teams to conduct targeted assessments of the 'COVID-19 lessons' of the past year-and-a-half and accordingly facilitate preparations for the safe resumption of the normal University system.
The Teams are tasked to develop an integrated plan based on three principles, namely:
Ensuring the integrity and sustainability of the Rhodes University intellectual project.
Sustainability of the University.
Taking into account the health, safety and wellbeing of staff, students, and the community of Makana.
This development comes as the vaccine roll-out gathers pace reaching down to the 18 years age group with effect from 20 August. "The University's position is that of learning to live with the virus with courage and vigilance," Vice-Chancellor Dr Sizwe Mabizela said.
Key among the considerations at a joint meeting of the academic, administrative and Unions leadership held on Wednesday were: the resumption of face-to-face teaching and learning, health and safety of students, staff and the community, operational effectiveness and provision of essential services to students and staff.
Eligible current and prospective students and staff are encouraged to take the vaccine as an important safety measure for themselves and others on and off-campus.
As a risk mitigation measure, the University is exploring and learning from the experiences of other institutions about the appropriateness or otherwise of making vaccination mandatory for accessing the University campus and facilities by eligible individuals.
The University's vaccination site, located at the Gavin Relly Postgraduate Village, is open to students, staff and the community. It is expected that all staff and students who wish to be vaccinated against COVID-19 will have been vaccinated by the end of October.
To the extent possible, the University will provide transport for students from the campus to the vaccination site.