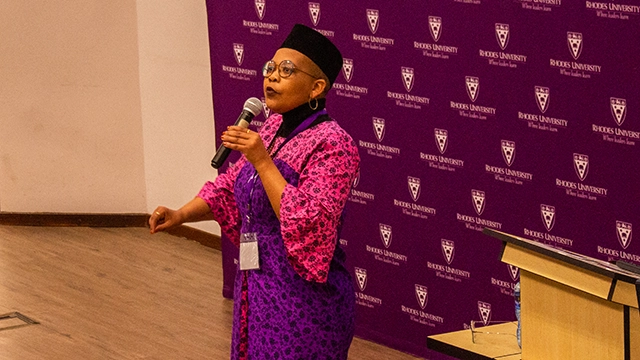 By Matimu Shivambu and Bongile Sigonyela
The Annual Rhodes University Postgraduate Conference enthusiastically kicked off on 8 September 2023. This two-day event, themed "Shaking the Table," brought together diverse students and academics from across all faculties at Rhodes University and beyond to exchange knowledge, engage in meaningful discourse, and present their cutting-edge research projects.
Rhodes University Deputy Vice-Chancellor for Research, Innovation and Strategic Partnerships, Dr Nomakwezi Mzilikazi, took the stage to deliver the official welcome address. She underscored the conference's significance as a highlight on the postgraduate calendar, serving as an invaluable platform for showcasing interdisciplinary research endeavours. Moreover, this event presented an unparalleled opportunity for networking and forging lasting connections among like-minded individuals. Dr Mzilikazi emphasised Rhodes University's unwavering commitment to research excellence, proudly housing various departments, units, and research institutes.
Furthermore, Dr Mzilikazi encouraged conference attendees to leverage this unique gathering to share their research findings, seek potential collaborators, and establish their research profiles. After all, they represent the future generation of researchers shaping our collective understanding of the world.
The conference organisers ensured a dynamic experience for attendees by dividing them into seven parallel presentation venues. Venue Seven stood out as it accommodated digital research presentations, catering to those who could not physically attend but were still eager to share their valuable contributions. As the conference proceedings continued, the Director of Rhodes University's Centre for Postgraduate Studies (CPGS), Professor Sioux McKenna, introduced the esteemed keynote speaker, the Head of the Department of Rhodes University Political and International Studies, Professor Siphokazi Magadla.
Professor Magadla commenced her keynote address with grace and enthusiasm. Her expertise encompasses wars and militarism in Africa, the armed struggle in South Africa, women's studies, African feminism, gender, and citizenship. She is also the author of the illuminating book, "Guerrillas and Combative Mothers: Women and the Armed Struggle in South Africa." Professor Magadla's contributions extend beyond her roles at Rhodes University, as she actively engages in impactful research that extends her reach globally.
According to Prof Magadla, African researchers carry a profound responsibility to provide solutions to address the persistent regional and global crises of inequality, climate change, and more. To underscore the urgency of these issues, Professor Magadla invoked the words of Rhodes University Honorary Doctoral Recipient Professor Janet Cherry, who observed that "we are running out of time." This underscores researchers' need to identify gaps and actively contribute to positive change.
Professor Magadla argued that the duty of African researchers extends to building solutions and conducting research that has a transformative impact on society. She highlighted the example of Distinguished Professor Tebello Nyokong epitomising the concept of building society through research solutions. According to Professor Magadla, this kind of work demands unwavering passion and boundless curiosity, traits essential for those who aspire to achieve a level of impact akin to Professor Nyokong's.
In her passionate address, Professor Magadla highlighted the need for African researchers to embrace a "blues mentality," symbolising resilience, creativity, and adaptability which she termed "Ukufukuza". This mentality, she argued, is vital for those who aspire to make a meaningful impact in the field of research.
Moreover, she contended that research offers a unique opportunity to explore and address various challenges and perspectives. She drew attention to Africa's stark realities of war and youth unemployment, prompting the question: How can African researchers contribute to forging a better path forward? Professor Magadla encouraged African scholars to build enduring research projects that yield lasting benefits, like the work of Professor Nyokong.
Opening the second day of the conference, Rhodes University Vice-Chancellor, Professor Sizwe Mabizela, classified this year's conference as the "most crucial postgraduate event in the history of the postgraduate conference at Rhodes University". This year's conference sought to change the perception of an academic conference, what it means to be a researcher today and what needs to be improved in imparting knowledge within and beyond academia.
Professor Mabizela emphasised the need for Rhodes University to distinguish itself as a research-intensive university where creativity is nurtured. "At Rhodes University, ideas are the lifeblood of this intensive research university," Professor Mabizela said. He said Higher Education has a purpose to fulfil within its surrounding communities and on a global scale. Rhodes University has always been at the forefront of innovation and development and continuously works to address the concerns of its surrounding community and contributes to global solutions.
Mthunzikazi Mbungwana, a Lecturer in the African Studies Section at Rhodes University, whose interests include isiXhosa literature, specifically about multidisciplinary ways of growing the language using popular culture, spoke about the role of modern-day South African poets, which is representation and active use of the language they possess.
"There is a gap we are trying to fill. Stakeholders in isiXhosa literature are trying to erode the many misconceptions about isiXhosa literature. There is a need for the growth and development of the isiXhosa language for it to reflect the current era. It is vital that the content produced appeals to young people who often shy away from pursuing isiXhosa as a career path for fear of being unemployable," she said.
The overarching theme of this year's conference was to encourage all forms of research methods, including those that deviate from the academic traditions to share knowledge and educate on various issues and across disciplines, including through using "unconventional" means such as drama, art, music and so forth.